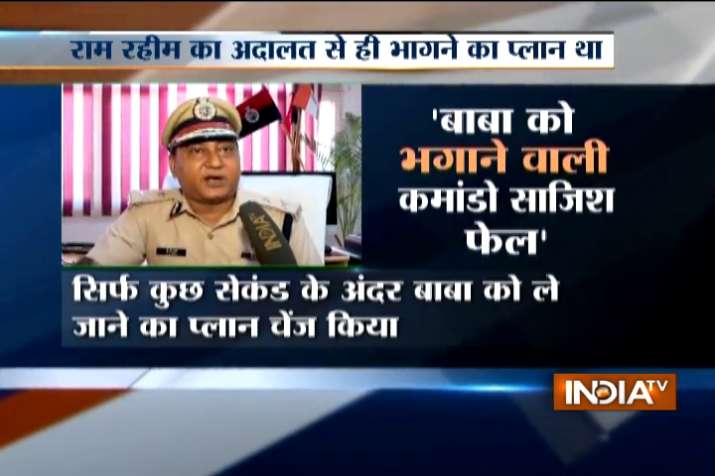 The stunning revelation made by IG India Reserve Battalion K K Rao about a diabolical plan hatched by Gurmeet Ram Rahim to escape from Panchkula court minutes after he was convicted, speaks volumes about the criminal nature of the fake godman. It was clear that Ram Rahim knew he would be convicted by the court, he had asked his men to store firearms inside the vehicles, had brought goons in his cavalcade, and had planned to escape, taking advantage of the bloody mayhem that would have ensued. He could have then posed a big challenge to the establishment, but his plan was nixed in the nick of the time by alert police officers like Rao.
I would also praise retired CBI officer Narayanan who diligently investigated both the rape cases, gave confidence to the rape survivors and ultimately justice prevailed. Narayanan revealed how he was literally forced by political leaders to weaken the case.  It exposes the rot that has set in our system. The fake godman was clearly reaping benefits from politicians by offering them support in elections. That is why Ram Rahim was cocksure he would not land in jail because of his 'high' political connections. But he was proved wrong. The Punjab and Haryana High Court was very much alert, along with the media this time, and the Special Judge of CBI court did not give him any leeway.
The most surprising thing in the entire sordid episode is how fake godmen like Ram Rahim manage to fool gullible devotees despite committing heinous crimes. He was literally robbing them in the guise of faith. He was using his devotees as shields and was goading them to carry out bloodshed. The irony is: even if one fake godman is exposed, another godman crops up and starts fooling gullible people. The saddest part is that eminent spiritual leaders in our society fail to prevent such fake godmen from engaging in nefarious activities. They are unable to create awareness among the people. This is a work which no government nor any government official can perform. It is the responsibility of spiritual and religious heads. It is the responsibility of the entire society, which includes all of us, including the media. It is only then can we prevent fake godmen from carrying on with their business in the guise of religion and faith.
Watch the full episode here:
Aaj Ki Baat: Monday to Friday, 9 PM
India's Number One & the most followed Super Prime Time News Show 'Aaj Ki Baat – Rajat Sharma Ke Saath' was launched just before the 2014 General Elections. Since its inception the show is redefining India's super prime time and is numerically far ahead of its contemporaries.