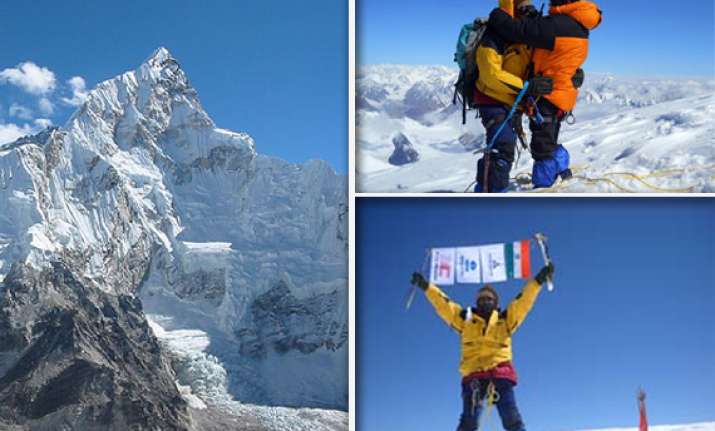 Jamshedpur, May 26:
Three moutaineers from Jharkhand today scaled the world's tallest peak, Mount Everest, Tata Steel sources said.
Meghlal Mahato and Binita Soren, reached the summit at 6:50 a.m. and Rajendra Singh Pal, brother of acclaimed mountaineer Bachendri Pal who trained them, reached the peak earlier at 4:40 am.
The team had set out from Kathmandu on March 25 and chosen to trek from Jiri to Lukla to acclimatise the climbers, sources in the Tata Steel Adventure Foundation (TSAF), which sponsored the expedition, said.
Bachendri Pal, the first Indian woman to climb Mt Everest, accompanied the climbers from Jiri to Tengboche.
"Tata Steel is happy to have sponsored this successful expedition to Mt Everest. We will continue to support such activity that helps build self confidence and team spirit and facilitates development of leadership qualities and empowerment in the long term," Managing Director, Tata Steel, H M Nerurkar said.
Rajendra had earlier climbed Mt Rudugaira (19,100 ft) in 1995 and was a leader and summiter of Mt Sudarshan (21,346 ft) in 2000.
He was also a member of Millennium Indian Everest Expedition (East Ridge) in 2001.
Meghlal Mahato earlier climbed Mt Stok Kangri (20,305 ft) in 2009 and Mt Saser Kangri (24,331ft) in 2011. Binita Soren was a member of Indian Women's First Thar Desert Expedition across the International Border - from Bhuj in Gujarat to Wagah in Punjab covering over 2,000 km in 30 days.