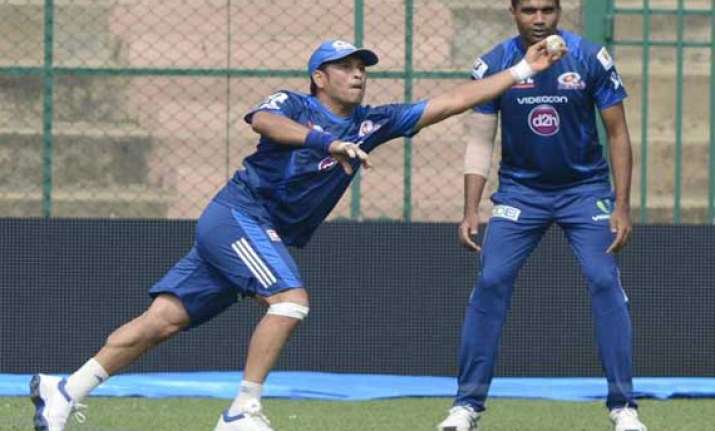 Bangalore, Apr 4:  The sixth edition of the Indian Premier League (IPL) T-20 tournament began on a high octane note here late Thursday with hosts Royal Challengers Bangalore (RCB) taking on Mumbai Indians (MI) in their opening encounter.
Sweating out in humid weather, about 30,000 die-hard fans flocked to the Chinnaswamy stadium in the city centre, with many carrying RCB flags, wearing the home team's jerseys or T-shirts and sporting its caps and colours on cheeks.
When Mumbai's captain Ricky Ponting won toss and elected to field, there was a mad rush at all gates as frenzied fans wanted to settle down quickly in their respective stands to watch RCB's explosive opener Chris Gayle in action.
The squads:
Royal Challengers Bangalore : CH Gayle, TM Dilshan, V Kohli, MA Agarwal, DT Christian, KK Nair, KB Arun Karthik, R Vinay Kumar, M Kartik, JD Unadkat, M Muralitharan
Mumbai Indians: RT Ponting, SR Tendulkar, KD Karthik, RG Sharma, AT Rayudu, KA Pollard, JJ Bumrah, MG Johnson, Harbhajan Singh, JDP Oram, MM Patel.