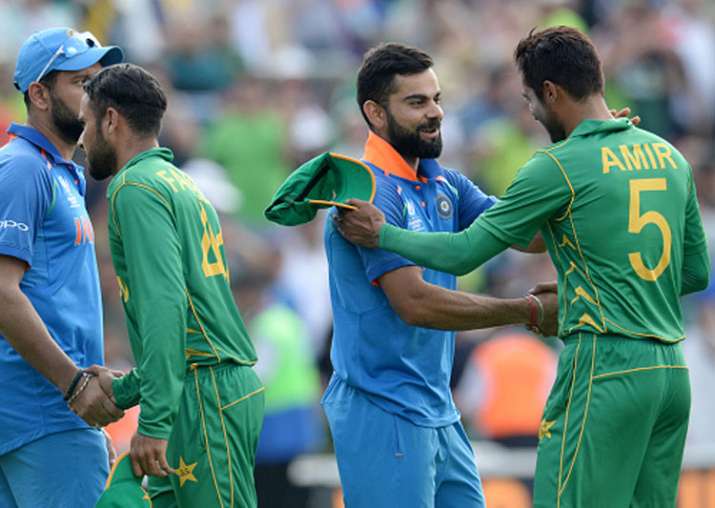 Defending champions India may have lost the ICC Champions Trophy 2017 final after suffering a heavy defeat against Pakistan but India captain Virat Kohli earned the respect of millions of Pakistan fans with his post-match comments. Pakistan demolished India by 180 runs at The Oval on Sunday to win their maiden Champions Trophy.  However, Kohli remained gracious in defeat and lauded the Pakistan team for its remarkable achievement. 
"I want to congratulate Pakistan, they had an amazing tournament, the way they turned things around, speak volumes for the talent they have. They proved it again, they can upset anyone on their day, disappointing for us but I have a smile on my face because we played well to reach the final," Kohli said after the match.
Thank you @imVkohli for very kind words for us. And Team India, you're a really good team. It is an honour to have won from World Champions.

— Marvi Sirmed (@marvisirmed) June 18, 2017
Thank you @imVkohli with your post match statement you won many hearts. You are a great player and a gentleman too

— Mubasher Lucman (@mubasherlucman) June 18, 2017
Credit too to @imVkohli for being gracious to PK and their fans - no greater team to play against

— fatima bhutto (@fbhutto) June 18, 2017
Virat Kohli, full of respect towards arch rivals and victorious opponents today, is such a remarkable ambassador for the game.

— Mirza Waheed (@MirzaWaheed) June 18, 2017
Superb sportsmanship from @imVkohli in the interview right now. 👏🏾

— Mosharraf Zaidi (@mosharrafzaidi) June 18, 2017
A gracious speech by @imVkohli ! cricket & diplomacy both winners today! #PakvsInd #champions!

— Sharmeen Obaid (@sharmeenochinoy) June 18, 2017
realy Impressed how well @imVkohli spoke post match. Gracious in defeat. u r a real hero man luv frm the other side #INDvPAK #CT2017Final

— Usman (@imcheetoo) June 18, 2017
My admiration for @imVkohli goes up for showing grace in defeat.No excuses, rather high praise for winning team & support to his own players

— Cricketwallah (@cricketwallah) June 19, 2017
Kohli lauded Pakistan opener Fakhar Zaman who hammered a brilliant hundred to power Pakistan to the mammoth score. Pakistan, ominously made to bat first - the team batting first lost six of the seven previous finals - racked up a final-record innings of 338/4, founded on a 128-run opening stand between Fakhar Zaman, who earned his maiden one-day international century with 114, and Azhar Ali, whom Fakhar helped to run out on 59.
India, playing for a record third Trophy title in a record fourth final, were then blown away for 158 in the 31st over.
"When players (Fakhar Zaman) like that get going on their day, it becomes really difficult to stop them because I think 80 percent of his shots were high-risk -- and they were all coming off. As a bowler and as a captain when that is happening... sometimes you have to sit and say 'the guy is good enough on the day to tackle anything'.
"We certainly tried to make them hit in areas that we felt it would be uncomfortable, but we just didn't have anything going our way in that partnership," Kohli said.
Kohli also praised his boys for putting up some wonderful performances throughout the tournament.
"We can still be very proud... and we leave here with our heads held high. Credit to everyone for standing up and showing that resilience and reaching the finals -- (but) we were outplayed in all departments. In the end ... you have to accept and admire sometimes the skill of the opposition," Kohli said.
The Indian captain's remarks were also appreciated by some former international cricketers.
India excellent throughout tournament except today. Impressed how well @imVkohli spoke post match. Gracious in defeat.

— Brendon McCullum (@Bazmccullum) June 18, 2017
Congrats Pakistan on a wonderful victory. To @imVkohli & your team, well played through the tournament & well spoken after the game #CT17 !

— Shane Warne (@ShaneWarne) June 18, 2017