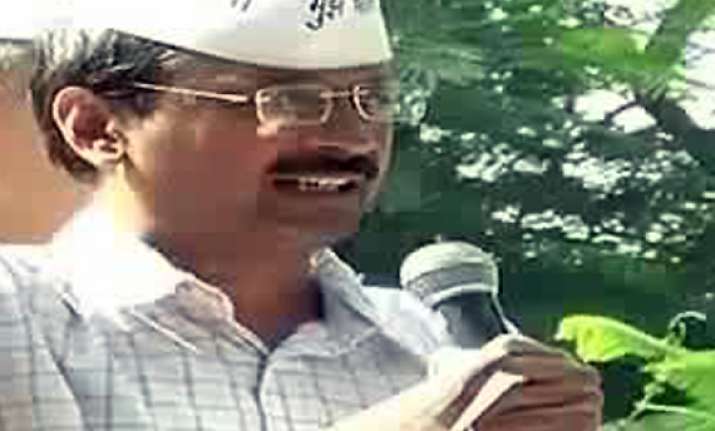 New Delhi, Oct  13: The war of attrition between Arvind Kejriwal and Salman Khurshid over allegations of irregularities against the Law Minister's NGO escalated today with the former launching an indefinite protest demanding his resignation and arrest, shortly after being released from a makeshift jail.
Khurshid's wife Louise, the project director of the NGO Dr Zakir Hussain Memorial Trust, lashed out at Kejriwal, terming the allegations of "money bungling" as "baseless innuendos" and accused him of "doing politics using the shoulders of the disabled".
Kejriwal and disabled people came to Parliament Street police station this afternoon after they were released from detention at a makeshift jail in Bawana in outer Delhi where they were kept since last evening.
They were detained yesterday afternoon when police stopped them from marching towards Prime Minister Manmohan Singh's Race Course Road residence.
The activists will continue their protest at Parliament Street till Khurshid is removed from the Cabinet and arrested along with his wife for alleged irregularities in the functioning of the NGO, Kejriwal said. Both Khurshid and wife have denied the charges.
Kejriwal sought to up the ante by calling for throwing the UPA government out of power. He tweeted, "Rise and throw this corrupt empire. Bhagat Singh gave up his life for the country. Subhash Chandra Bose gave up his life and career. What would u do?"
"My appeal to the youth - come and join. You are not doing favour to anyone. Fight for ur own future. Parliament Street police station (will be the) beginning of downfall of corrupt empire. Parliament Street police station will be the next Tahrir Square," he said.
Rebutting the allegations, Louise Khurshid trashed speculation about her husband resigning over the issue, saying there is no reason why her husband should step down.
"There is no inquiry against Khurshid either by the central government or any report by the CAG. So why should he step down," Louise said.
She was also critical of a television group against which she has filed a defamation suit for a sting operation on the issue saying more such suits will be filed including one by the Law Minister himself.
"We have spent huge money serving the people of our constituency Farrukhabad for which we did not take anything from the government. We will not soil our hands for an amount like Rs 70 lakh. We have done no wrong. All this is totally false," she said.
She denied any inter-ministerial rivalry behind the controversy but wondered why the Ministry for Social Justice and Empowerment did not give papers and documents to the CAG and others, when they were sought.
"The Ministry should have given the accounts. We had submitted the utilisation certificates and all documents," she said adding that the ministry for "some inexplicable reason" said they were not concerned with it, when the CAG made certain queries regarding the Trust's work.
"There are already enough innuendos. I do not want to add up to them. I will not make any allegation but it was quite shocking that they did not give documents," Louise said.
"The ministry should have given the accounts, we submitted...All these proofs are with the ministry. All these proofs are with the ministry. Why the ministry did not give all these proofs?" she wondered.
Louise claimed the document being shown by certain news channels regarding her NGO is not a CAG report.
"The document is merely an excerpt from an initial internal report, which seeks, from Ministry of Social Justice and Empowerment to give certain clarifications. Neither the Zakir Hussain Memorial Trust nor any of its functionaries have been questioned by the CAG or by the Ministry," she said.
Targeting Kejriwal, she said he should first come clean on the amount of Rs 2 crore, which he was going to give to Anna Hazare after they parted ways before "screaming and shouting" on others.
She said that the protest march by disabled persons to yesterday did not have anyone from Uttar Pradesh.
"Kejriwal is what Americans say is an ambulance chaser. He is chasing issues. He is no more an activist. He has launched a political party and looking for issues...," she said.
Delhi Police spokesperson Rajan Bhagat said, "We have released them (the activists) from detention." Besides Kejriwal, the others who were detained included Manish Sisodia and Gopal Rai.