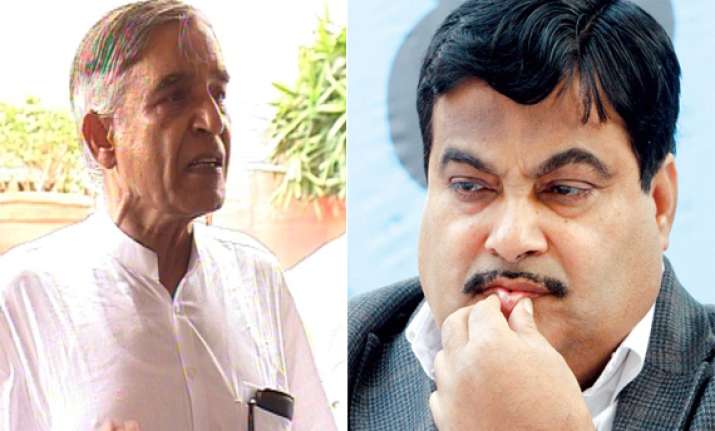 New Delhi, Oct 4: BJP president Nitin Gadkari Thursday faced controversy over a letter he had written to union Water Resources Minister Pawan Kumar Bansal seeking payment to contractors in a water project in Vidarbha, which is linked to the multi-crore irrigation scam in Maharashtra.
The Congress alleged that the BJP leader was interested in getting payments of some of his associates cleared expeditiously.
Gadkari defended his letter and said he had sought clearance of payments so that the project aimed at enhancing irrigation potential in farmer suicide-prone Vidarbha gets completed.
The BJP president declared he had no links with any contractor and had done no wrong and charged the Congress with trying to defame him by making false allegations.
Congress leader Digvijay Singh told a news channel that Gadkari "was not interested in projects" but in payments. He said while BJP leaders in Maharashtra were talking of exposing "corruption done by contractors" in Gosikhurd dam in Vidarbha, Gadkari was seeking their payments.
Digvijay Singh wondered in how many other projects, Gadkari had written similar letters and questioned his business links with Ajay Sancheti.
Gadkari's political rivals have claimed the letter to Bansal was aimed at benefiting his associate Sancheti.
Digvijay Singh also said that Gadkari should give details of growth in his assets in the last 15 years . He said Gadkari was not an asset to BJP but "a liability".
In the letter written July 30 to Bansal, Gadkari asked him to clear the dues of the contractors involved in the Gosikhurd dam in Vidarbha though no names were mentioned.
The letter said that due to non-payment of the dues, the contractors may stop their works which may delay the programme and would also result in time overrun and delays in creation of irrigation potential. Gadkari said in the letter that liability of Rs.400 crore was pending.
The Gosikhurd project figures in the alleged scam in irrigation projects in Maharashtra which had led to Nationalist Congress Party (NCP) leader Ajit Pawar quiting last month till a white paper came out on the issue.
The BJP has attacked the ruling coalition in Maharashtra over irrigation scam in the state in which Ajit Pawar arbitrarily doled out contracts worth Rs.20,000 crore.
Gadkari told mediapersons that the project, conceived over 20 years ago, had seen cost escalation of over 15 times. He said nearly 300 contractors were working on it.
He said thousands of farmers had committed suicide in Vidarbha and the project will help irrigate 3.5 lakh hectares in the region.
"I have written five letters and said that if payments are not made, work will not progress...I will write 10 more letters. I have done nothing wrong. I have no regret," Gadkari said. He said the aim of letters was not payment to contractors but saving farmers in the region.
"I have no links with any contractor," he said and added that contracts were given five years before he became the party president.
He referred to allegations levelled against him by an activist over alleged business links with NCP leader Sharad Pawar and said "false information was being spread about his links with two contractors (in the Vibhadra project)."
Gadkari said delay in construction of project showed inefficiency of the central government and accused Bansal of "distributing" his letter.
"The Congress is trying to involve my name. They should not make false allegations," he said, and added that those who had levelled allegations against him in Adarsh Housing Society scam had to ask for forgiveness later.