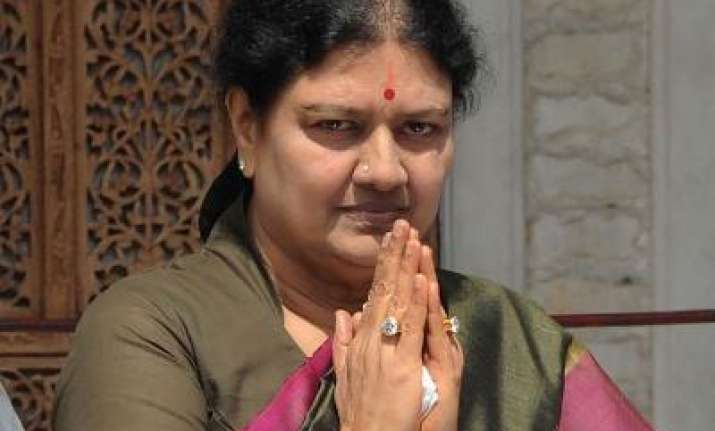 Worried over party MLAs withdrawing their support, Tamil Nadu CM-designate and AIADMK supremo Sasikala has now approached the Congress to seek party MLAs support to form government in case any 'emergency' arises. 
According to a Times of India report, the Congress high command on Thursday summoned Tamil Nadu Congress chief S Thirunavukkarasar and legislature party leader K Ramasamy to New Delhi on Friday for consultations. 
Amid allegations that the central government is meddling in the state's affairs, Congress vice president Rahul Gandhi is also expected to meet party MLAs from Tamil Nadu. 
The ruling AIADMK has 134 MLAs in the 234-member assembly, but is now losing members to Panneerselvam's group. 
On Thursday, AIADMK's presidium chairman and second-in-command in the party, E Madusudanan pledged his support to Panneerselvam.
Sasikala met Tamil Nadu Governor C Vidyasagar Rao on Thursday evening and staked claim to form the government citing the backing of 129 MLAs. But, on the other hand, her rivals contested the claim and said it could be around 100 MLAs. 
Meanwhile, caretaker Chief Minister O Panneerselvam said he's confident of proving majority in the House if he gets the Governor's nod. As of now, he has only five MLAs with him. 
He has alleged that party MLAs have been "held hostage" in Golden Bay resort on the East Coast Road, and they are on hunger strike. 
The report cited Congress sources saying that the Sasikala camp was trying to reach the party high command. The party, an ally of DMK, has eight MLAs. 
"Congress MLAs are keen that the high command takes a popular stand. It should not be a suicidal attempt, akin to 1996," Times of India quoted a senior Congress official as saying. 
In 1996, then Congress chief P V Narasimha Rao's decision to go against the popular opinion of a Congress-DMK alliance, and tie up with Jayalalithaa, had cost the party dear.