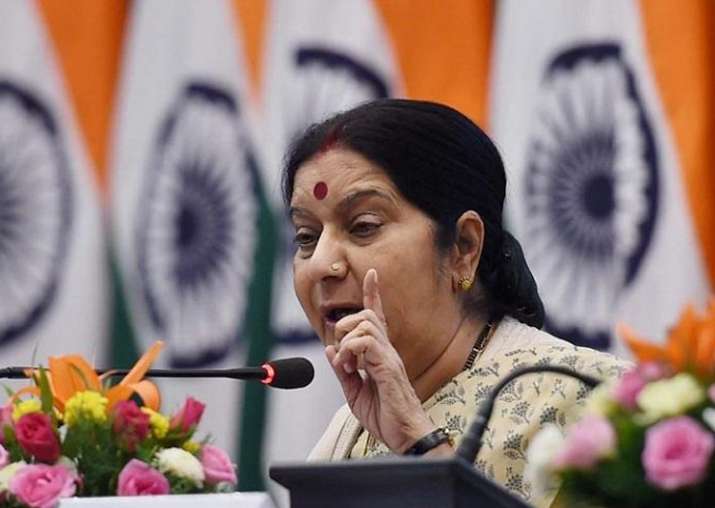 External Affairs Minister Sushma Swaraj today welcomed the International Court of Justice (ICJ) staying the execution of Kulbhusban Jadhav, the Indian national on death row in Pakistan, until the court delivered its final verdict in the case.
"I assure the nation that under the leadership of Prime Minister Narendra Modi we will leave no stone unturned to save Kulbhushan Jadhav," Swaraj tweeted, minutes after the ICJ passed a favourable verdict for India providing interim relief to Jadhav.
"The ICJ order has come as a great relief to the family of Kulbhushan Jadhav and people of India," she added.
"We are grateful to Harish Salve for presenting India's case so effectively before ICJ," she said in another tweet.
Meanwhile, Prime Minister Narendra Modi spoke to Swaraj and expressed satisfaction at today's order of the ICJ. He also praised the efforts of Harish Salve and his team for putting up a strong argument in favour of India at the international forum. 
Earlier in the day, the ICJ asked Pakistan not to execute Jadhav pending its final decision and inform it of the steps being taken to implement the order.
"This court unanimously decides that Pakistan shall take all measures at its disposal so that Kulbushan Jadhav is not executed pending a final decision of this court in the matter. It also unanimously decides that the court must be told of the measures Pakistan takes to implement this order," ICJ President Ronny Abraham said in the operative portion of the order which he read out in the open court for nearly 30 minutes.
Officials of both the countries were present when the judge asked the registrar to communicate the order to both the parties.