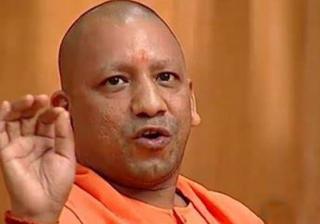 Raking up the issue of "exodus" of Hindus from western Uttar Pradesh, BJP leader Yogi Adityanath said on Monday that if such a situation persisted, the region would "soon become another Kashmir".
Addressing an election rally at Dhaulana in Hapur district, the Gorakhpur MP alleged that Hindus were being terrorized in western Uttar Pradesh like "Kashmiri Pandits were terrorized and forced to flee the Kashmir Valley".
Adityanath alleged that situation was "grim" in entire western Uttar Pradesh, particularly in districts like Muzzafarnagar, Baghpat, Meerut and Ghaziabad.
"BJP is committed not to let this happen anymore. We have lost Kashmir Valley, but we cannot let western Uttar Pradesh to become second Kashmir," he said urging the Hindu voters to support the Bharatiya Janata Party.
Adityanath alleged that a 'fatwa' has been issued by Muslim clerics to support Muslim candidates and termed it a "direct challenge to Hindu voters".
He also supported US President Donald Trump's controversial immigration order that bans travellers from seven Muslim-majority countries and stressed the need for such action in India to contain terrorism.
Addressing an election rally in Bulandshahr, he said, "Similar action is needed to contain terror activities in this country."
Trump has ordered "extreme vetting" of people entering the US from seven Muslim-majority countries and banned the entry of Syrian refugees until further notice, as part of new measures to "keep radical Islamic terrorists" out of America.
The Supreme Court had earlier this month ruled that seeking votes in the name of caste, creed, religion, community and language is illegal.
Targeting Samajwadi Party, the BJP MP said Uttar Pradesh had lost its sheen and recognition in the last five years of its rule.
Addressing the rally, BJP Dhaulana candidate Ramesh Chandra Tomar alleged that "total anarchy" prevailed under Chief Minister Akhilesh Yadav's government.
IANS inputs