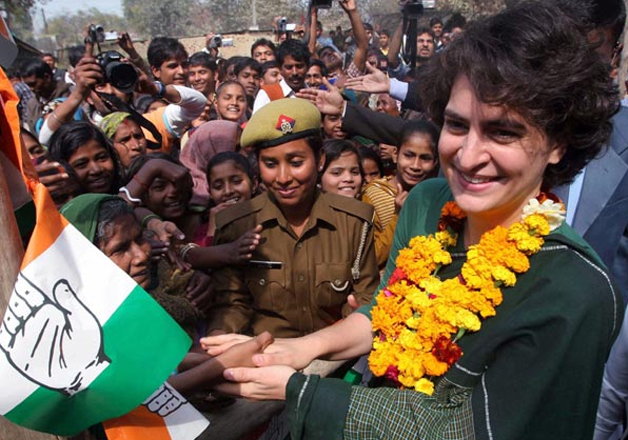 Samajwadi Party and Congress announced their alliance for Uttar Pradesh assembly polls last month, but the political bastions of the Gandhi family – Amethi and Rae Bareli – remain an unfinished agenda.
According to reports available with India TV, Congress president Sonia Gandhi's daughter Priyanka Gandhi, who had played a key role in sealing the alliance, will hit the campaign trail on February 13, but will not seek votes in favour of Samajwadi Party candidates. 
On February 13, 14 and 15 Priyanka will campaign in her mother's parliamentary constituency Rae Bareli, whereas on February 16, 17 and 18 she will campaign for Congress' candidates in Amethi, which is represented by her brother Rahul Gandhi in the Lok Sabha.
Sources said that the Congress, which managed to get 105 of the 403 seats under the seat-sharing deal with Akhilesh Yadav's Samajwadi Party, is in no mood to give up its claim over all the 10 seats in Rae Bareli and Amethi. They said that Priyanka will campaign against Samajwadi Party candidates in all 10 Assembly seats of the two parliamentary constituencies. 
In from Amethi, the SP has fielded Gayatri Prajapati. But Congress leader Ameeta Singh, second wife of Rajya Sabha MP Sanjay Singh, on Thursday filed her nomination as a Congress candidate from here. Sources said that Priyanka will campaign here in favour of Ameeta.
Out of 10 assembly seats, the SP has fielded its candidates on four seats including Amethi. The remaining three seats are Gauriganj, Unchahar, Sareni. 
In Gauriganj under Amethi Lok Sabha constituency, the Congress has fielded Mohammed Naim against SP's sitting MLA Rakesh Pratap Singh. Naim had unsuccessfully contested the last assembly polls from here on a Congress ticket. 
In Unchahar under Rae Bareli Lok Sabha seat, Congress' Ajay Pal Singh is facing Cabinet minister Manoj Kumar Pandey (Samajwadi Party).
Likewise, in Sareni under Rae Bareli parliamentary seat, Congress's Ashok Singh is pitted against SP's Surendra Vikram Singh.
Sources said that Priyanka will aggressively campaign in these four constituencies against the SP nominees. 
Meanwhile, Congress president Sonia Gandhi is likely to campaign for party candidates on seats falling under Rae Bareli Lok Sabha constituency.
Sources said that Sonia, who has been indisposed for some time and has not been active in handling party work for a few months now, is all set to campaign in Uttar Pradesh but will restrict herself to Rae Bareli.
Amethi and Rae Bareli go to polls in the 4th and 5th phase of polling in the state on February 23 and 27. Results will be declared on March 11.