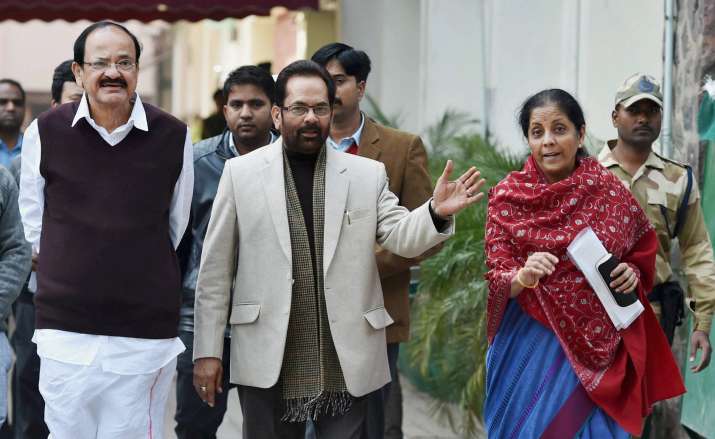 Ahead of the seven-phased Assembly elections in Uttar Pradesh, the Bharatiya Janata Party (BJP) on Monday urged the Election Commission to immediately remove the Chief Secretary and the Director General of Police of the poll-bound state accusing them of "partisan" conduct.
A BJP delegation met the Election Commission here and submitted a memorandum, alleging that Director General of Police (DGP) Javeed Ahmed was close to the ruling Samajwadi Party and hence "his continued presence as the DGP will seriously jeopardise the conduct of free and fair elections".  
Urban Development Minister M. Venkaiah Naidu and his cabinet Mukhtar Abbas Naqvi were among those who met Chief Election Commissioner Nasim Zaidi here. 
The memorandum also alleged that certain District Electoral Officers (DEOs) and Returning Officers were delaying or denying legitimate permissions to BJP candidates "under the influence of Chief Secretary Rahul Bhatnagar". 
The party sought the transfer of the District Magistrates -- who are also the Electoral Officers of their districts -- of Rampur, Meerut and Firozbad for being "partisan". 
The BJP demanded the lifting of the bar on the use of motorcycles for campaigning and called for deployment of only central forces in the state. 
Naidu also accused the Akhilesh Yadav-led Samajwadi Party of misusing the administration and its officers for manipulating the state polls. 
"Samajwadi Party has lost the trust of the people by taking away the cycle from the man (Mulayam Singh Yadav), who brought the party where it is today, and then handing over that cycle's handle to the Congress," Naidu said after meeting with the Chief Election Commissioner.  
The minister said that some District Magistrates in the state were serving at the same place for over four years in different positions. 
"We apprised the EC that during elections, such officers should be temporarily removed," he said. 
The state with 403 seats is headed to the polls in seven phases: February 11, 15, 19, 23, 27 and March 4 and 8.