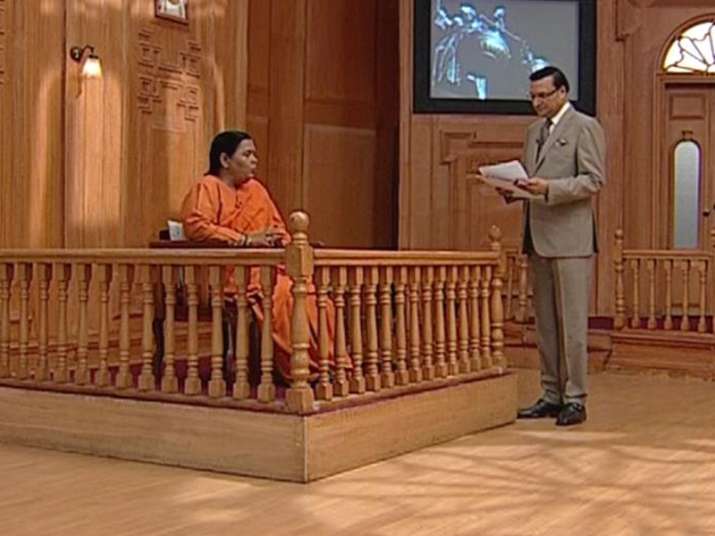 Firebrand BJP leader and Union Water Resources Minister Uma Bharti has firmly rejected RJD leader Lalu Prasad's apprehensions  about a "conspiracy" to prevent senior party leader L K Advani from becoming President by allowing his trial in the Babri demolition case. 
Replying to queries from Rajat Sharma in Aap Ki Adalat, to be telecast tonight on India TV, Uma Bharti said: "I don't think there is any conspiracy. Modiji is one of the tallest leaders not only in India, but in the whole world. Who will believe that he would be creating crisis for Advani ji?  Those who are spreading such canards need mental treatment. I have seen what Laluji has said on TV. The entire country stands solidly behind a strong leader like Modiji. How can he have problem with Advani ji?"
The saffron sanyasin went on to say: "Why should Modi ji conspire? ..God willing Advani should live for 125 years, but let me tell you, there is no conspiracy about preventing him from becoming President. "
Uma Bharti's remarks come in the wake of Supreme Court directing speedy trial of L K Advani, M M Joshi, Uma Bharti and other leaders in the Babri demolition conspiracy case, months before elections for President and Vice-President of India are due. 
When Rajat Sharma pointed out that the charges of conspiracy and incitement to violence levelled in the CBI chargesheet entailed a maximum punishment of 5 years imprisonment, Uma Bharti replied: "Why five years, I am ready to spend 5000 years in jail for the cause. I am proud and happy to have been part of the Ram Janmabhoomi movement". 
The firebrand leader pointed out that she had resigned from the post of Madhya Pradesh chief minister in 2004, when she was charged in the Tricolour hoisting case in Hubli, Karnataka.  "I resigned for the cause of Tiranga, and for the cause of Ram temple, I am ready to even offer my head on a platter".
Asked why BJP was not starting negotiations with the Muslim community on building Ram temple in Ayodhya, Uma Bharti replied: "If we take the initiative for talks with Muslim community, leaders like Nitish Kumar, Mamata Banerjee, Sonia Gandhi, Mulayam, Lalu Yadav will try to vitiate the atmosphere. They are waiting to kindle the fire" .
Uma Bharti compared the riots after Babri demolition in 1992 with the Allahabad High Court verdict in 2010. 
"There were no riots on 6th December 1992 after the structure was demolished in Ayodhya. Riots were engineered on 8th December by Leftists and Arjun Singh's supporters.  Contrast this with the 2010 verdict in which the Allahabad High Court acknowledged that the place where the central dome of Babri mosque stood was the birthplace of Lord Ram. Our lawyer Ravi Shankar Prasad read out the verdict and appealed to people to maintain calm. There were no riots."
The Union Minister claimed there was "no pre-conceived plan" to pull down the Babri mosque."But one should understand, a temple cannot be built without pulling down the structure."
Asked about her role in Ayodhya on 6th December, Uma Bharti replied: "When kar sevaks went up the domes of Babri structure, Advaniji asked me whether I could speak to them over the mike. There were many other leaders there on the dais, but none had the courage to go. I took Additional SP Anju Gupta with me in a car towards the disputed site. Advaniji sent two leaders with me in the car. I will not name them. One of them is no more. When I reached the disputed site, a female kar sevak, who had lost two of her sons in police firing in 1990, stopped me. She told me, you can't move ahead, let this structure fall, this structure has taken lives of my two sons. 
"Soon a large number of karsevaks surrounded me. I turned around and saw both the Additional SP and two BJP leaders had vanished. The crowd of kar sevaks took me back to the dais, shouting Jai Shri Ram slogans."
Uma Bharti briefly broked down in Aap Ki Adalat show, when a lady member of the audience, Poornima Kothari, narrated how she lost her two brothers, who were kar sevaks during police firing in Ayodhya in November 1990. 
Asked whether government would take action against the then UP chief minister Mulayam Singh Yadav for ordering police to open fire, Uma Bharti replied: "Poornima should go to Yogi ji and demand action. On that day in 1990, I was leading the crowd of nearly 9,000 kar sevaks in Ayodhya, while another crowd, in which her brothers were there, entered some streets, where police fired on them."
On the contentious Triple Talaq issue, Uma Bharti said: "Triple Talaq is not an issue related to Islam, Prophet Mohammed, Mecca or Medina. It relates to Muslim society. I am strongly against triple talaq. It is directly related to the lives and self-respect of Muslim women."
The Water Resources and Ganga Rejuvenation Minister said, she "would jump into the river Ganga, if the river was not cleaned up by October next year." 
"Our ministry has been given Rs 20,000 crore non-lapsable Central fund. We launched the Ganga cleanup scheme on July 7 last year. If by October 2018, Ganga is not cleaned up, I will jump into the river."
Uma Bharti however pointed out that the river Rhine in Germany took 60 years and the river Thames in London took 70 years to be fully cleaned up. 
"We have already completed three years. I do not want to waste public money. Going by the fast pace of work in Modiji's government, we may have to complete this in seven years. Mamata Banerjee and Akhilesh Yadav's governments did not cooperate with us in cleaning up the Ganga. Now that Yogiji's government has come, he has promised to fully cooperate."
Uma Bharti in Rajat Sharma's Aap Ki Adalat will be telecast tonight at 10 pm on India TV. The repeat telecast of the show will be made on Sunday April 23 at 10 am and 10 pm.