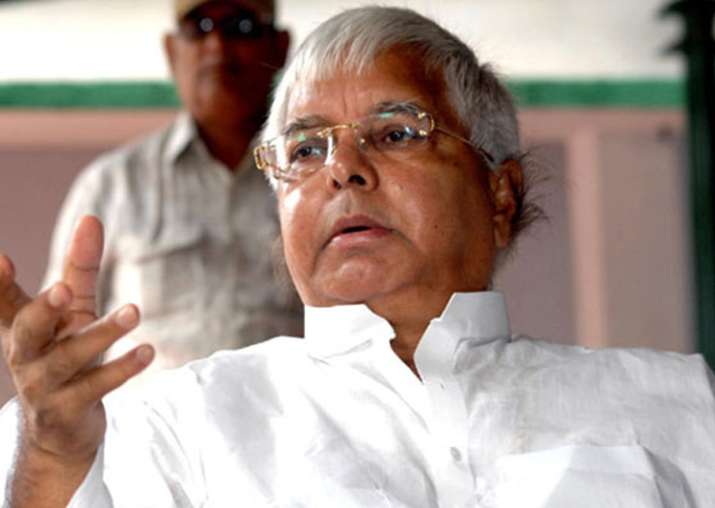 The Income Tax Department has charged family members of RJD chief Lalu Prasad, including his wife, son and daughters, under the Benami Transactions Act in connection with its probe into land deals worth Rs 1,000 crore and tax evasion. 
The I-T has also served notices of attachment of assets to Lalu's daughter Misa Bharti and her husband Shailesh Kumar, his wife Rabri Devi, son and Bihar Deputy Chief Minister Tejashwi Yadav and daughters Chanda and Ragini Yadav. The attachment notice has been issued under Section 24(3) of the Benami Transactions (Prohibition) Act and Lalu's kin have been identified as "beneficiaries" of the benami assets. 
The department has attached immovable assets such as land, plots and buildings in Delhi and Patna which bear a "deed" value of Rs 9.32 crore but the taxman has estimated their current market value at Rs 170-180 crore. A total of nine plots in Phulwari Sharif in Patna, where a mall is reported to have been coming up, has also been attached by the tax department. The department had carried out country-wide searches in this case last month. Benami properties are those in which the real beneficiary is not the one in whose name the property has been purchased. 
Violation of the Act carries rigorous imprisonment of up to seven years and a hefty fine. The 1988 Act was implemented by the Union government from November 1, last year. 
Tax department officials had said Lalu's kin held some of the properties under their scanner in a benami way. 
In this case, a chartered accountant, Rajesh Kumar Agrawal, allegedly linked to Bharti and others, was also arrested by the Enforcement Directorate (ED) on May 22. Agrawal is alleged to have aided in illegal transactions involving Prasad's kin. Officials have earlier said that the summons to Bharti and Kumar were part of the probe in the case and that the department wants to record their statements. 
The couple allegedly have links with a firm – Ms Mishail Packers and Printers Private Limited – which is suspected to have entered into benami deals for purchase of a farm house in Delhi's Bijwasan area. Tax department had said that Lalu's kin held some of the properties under their scanner in a 'benami' way. 
The market value of the total attached property is worth Rs 175 crore, whereas the book value of the attached property is Rs. 9.32 crore. Following are the details of the attached property:
1. Farm no: 26, Palam Farms, Bijvasan, Delhi.
Benamidars: Mishail Packers and Printers Pvt. Ltd.
Beneficiary: Misa Bharti and Shailesh Kumar
Book Value: Rs. 1.4 cr
Market Value: Rs. 40 cr
2. 1088, New Friends Colony
Benamidars: AB Exports Pvt. Ltd.
Beneficiary: Tejaswi Yadav, Chanda and Ragini Yadav
Book Value: Rs. 5 cr
Market Value: Rs. 40 cr
3. Nine plots in Jalapur, PS Danapur, Patna
Benamidars: Delight Marketing Pvt. Ltd.
Beneficiary: Rabri Devi, Tejaswi Yadav
Book Value: Rs. 1.9 cr
Market Value: Rs. 65 cr
4. Three Plots in Jalapur, PS Danapur, Patna
Benamidars: AK Infosystems
Beneficiary: Rabri Devi, Tejaswi Yadav
Book Value: Rs. 1.6 cr
Market Value: Rs. 20 cr