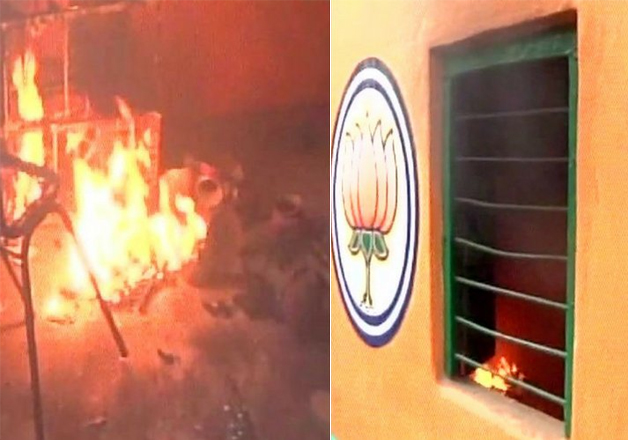 Trinamool Congress workers today attacked an office of the Bharatiya Janata Party (BJP) in West Bengal's Hooghly district.
News agency ANI reported that TMC workers set ablaze the BJP office during a rally in Chuchura. This was the second time in the last two days that the BJP's office in the state was attacked by ruling party's activists.
On Tuesday evening, the students' wing of the TMC had attacked the BJP's headquarters in Kolkata to protest against the arrest of party MP Sudip Bandyopadhyay by the CBI in connection with Rose Valley Chit Fund Scam.
Former Hooghly district BJP president Krishna Bhattacharya was also injured yesterday late night when a TMC worker allegedly hurled bomb at the leader's house. At around 9.30 pm, TMC-led miscreants attacked Bhattacharya's house.
West Bengal: TMC supporters stage a rail-roko protest in Cooch Behar over arrest of TMC MP Sudip Bandyopadhyay pic.twitter.com/LI8ElvLpu8

— ANI (@ANI) January 4, 2017
During the attack, the leader was allegedly beaten up by a group of people before ransacking her house. Bhattacharya was immediately rushed to hospital for medical relief.
"They have beaten me up badly. I was senseless," the BJP leader said.
Union minister Babul Supriyo also claimed that TMC workers tried to break open the gate of his apartment in Kolkata.
"TMC goons trying to break open the gate of my apartment in Kailash Bose Street where my mother, father are staying. What a shame," he tweeted along with a video.
TMC goons trying 2 break open the gate of my apartment in Kailash Bose Street where my MumDad are staying•What a shame pic.twitter.com/i2WRMLgebI

— Babul Supriyo (@SuPriyoBabul) January 4, 2017
The TMC has been protesting against the arrest of its MPs – Sudip and Tapas Pal for their alleged role in Rose Valley scam. The party has accused the BJP-led NDA government of pursuing vendetta politics against those opposing demonetisation drive.
They even blocked movement of vehicles on NH-2 near Asansol.
Meanwhile, in Kolkata, a group of TMC activists today staged a demonstration outside the CBI's state headquarters to protest against the arrest of Sudip and Pal.
Sudip, TMC's Parliamentary Party leader, was arrested by CBI in Kolkata yesterday for his alleged involvement in the Rose Valley Group's ponzi scam and brought to Bhubaneswar late last night. Earlier, CBI had arrested another TMC MP Tapas Pal on the same charge and kept him in remand for three days.
A four-time Lok Sabha member and a minister of state in the Manmohan Singh government, Sudip was arrested after he allegedly failed to give satisfactory answers to many questions and was found to be uncooperative.
A two-member delegation of the TMC today also met the senior officials of CBI here and lodged protest against the arrest of two MPs.