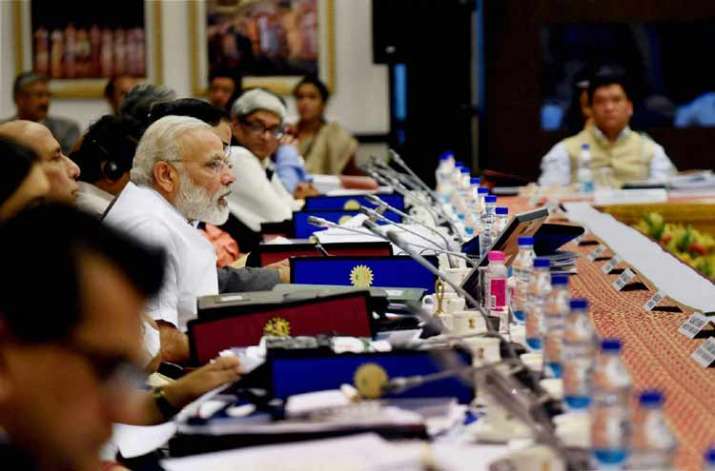 Prime Minister Narendra Modi on Sunday said that vision of 'New India' can be realised only through combined efforts of all states and chief ministers need to work together for it. 
The Prime Minister made the remarks during a meeting the Niti Aayog's governing council that was skipped by Delhi Chief Minister Arvind Kejriwal and his West Bengal counterpart Mamata Banerjee. 
The Prime Minister was delivering his opening remarks at the third meeting of the Governing Council of Niti Aayog.
The third meeting of the council began at Rashtrapati Bhawan with the main agenda of deliberating on the 15-year Vision Document to accelerate the country's economic development.  
Hailing the consensus on Goods and Services Tax (GST) as an illustration of cooperative federalism, Modi said it reflects the spirit of 'one nation, one aspiration, one determination'. 
"The consensus on GST will go down in history as a great illustration of cooperative federalism. GST reflects the spirit of 'One nation, One aspiration, One determination'," an official statement quoted Modi as saying. 
According to the statement, the Prime Minister also said GST shows the strength and resolve of the federal structure. 
Modi gave credit to all chief ministers for coming on one platform for GST, keeping aside ideological and political differences. 
President Pranab Mukherjee on April 13 gave assent to four key legislations on GST. The government plans to roll out the new indirect tax regime from July 1. 
GST, the biggest taxation reform since Independence, will subsume central excise, service tax, Value Added Tax (VAT) and other local levies to create a uniform market.
Mamata, Kejriwal skip Niti Aayog's Governing Council meet 
West Bengal Chief Minister Mamata Banerjee and Delhi Chief Minister Arvind Kejriwal were among those who skipped Niti Aayog's Governing Council meet here today. 
"West Bengal Chief Minister Mamata Banerjee and Delhi Chief Minister Arvind Kejriwal could not come to attend the Governing Council meeting today at Rashtrapati Bhavan," a source said. 
However, the source said that Kejriwal sent Deputy Chief Minister Manish Sisodia to represent Delhi. 
The source further said a large number of chief ministers are attending the meeting because Prime Minister Narendra Modi had refused to allow their official representatives to participate in the deliberations. 
The source said Modi had made it clear that only the chief minister or the deputy chief minister will represent their states and no other official will be allowed to participate in the meeting. 
Among the opposition ruled states, Punjab Chief Minister Captain Amarinder Singh, Bihar Chief Minister Nitish Kumar, Tripura Chief Minister Manik Sarkar, Karnataka Chief Minister Siddaramaiah and Tamil Nadu Chief Minister Edappadi K Palaniswami attended the meeting. 
Others who were present include Uttar Pradesh Chief Minister Yogi Adityanath, Jammu and Kashmir Chief Minister Mehbooba Mufti and Odisha Chief Minister Naveen Patnaik. 
Union ministers Nitin Gadkari, Rajnath Singh, Suresh Prabhu, Prakash Javadekar, Rao Inderjit Singh and Smriti Irani also attended the meet. 
The council, which is the apex body of the Niti Aayog, is headed by the Prime Minister and includes all chief ministers and members.
(With PTI inputs)