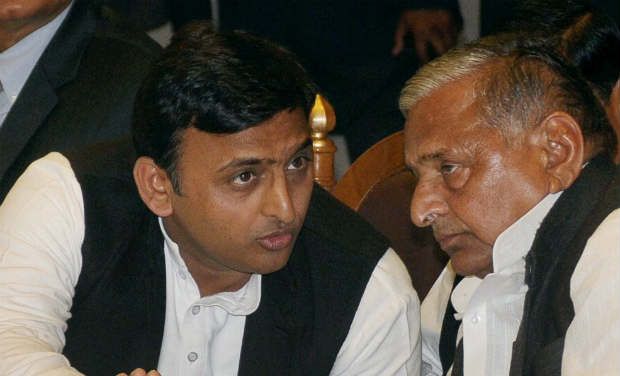 With UP Chief Minister Akhilesh Yadav and Congress vice-president Rahul Gandhi coming together to contest the Assembly polls together, a shocking revelation about the ruling party's government has raised serious questions on the alliance's theme of progress, prosperity and clean governance. 
According to a report in The Indian Express, the Samajwadi Party government, over the last five years, moved to bury at least 19 cases against senior political leaders from the state. 
These cases covered a wide range of alleged offences, including rioting, fraud, kidnapping, extortion, and in one case, even culpable homicide not amounting to murder. 
The beneficiaries include seven state ministers, 10 SP MLAs, BJP MP from Agra Ram Shankar Katheria and senior BJP leader and Union Minister Kalraj Mishra. 
In each of the 19 cases, the application for withdrawal was filed in court on grounds of "public interest and interest of justice", says the report. 
One of these cases was against Minister Raghuraaj Pratap Singh alias Raja Bhaiya, under the Uttar Pradesh Gangsters and Anti-Social Activities (Prevention) Act, 1986 which was withdrawn in July 2014. The case also contains history-sheeters and SP MLAs Abhay Singh and Vijay Mishra. Singh's case was withdrawn in February 2014, while the petition on Mishra's case is still pending. 
Surprisingly, six SP ministers and seven of the 10 MLAs from the party – except Vijay Mishra and Bhagwan Sharma – mentioned in the list have been given tickets to contest the polls. 
In another, case against Kalraj Mishra for holding a public meeting without permission in Pilibhit in 2009, the withdrawal application is still pending. 
According to the report, the ruling SP government also filed withdrawal pleas in five cases against the other BJP leader on the list, Ram Shankar Katheria, including for protests at a power sub-station in Agra.
Katheria, former Union Minister of State for HRD, lost his berth last July following a "hate speech" he delivered at a condolence meeting in Agra last February. 
The report claimed that the administration's move to withdraw the cases was confirmed by various UP government counsel and the accused.