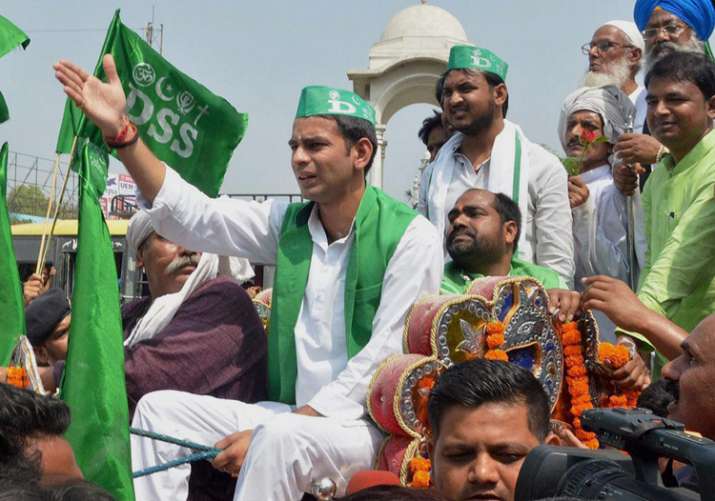 Bihar Forest Minister and RJD supremo Lalu Prasad Yadav's son Tej Pratap has landed in a controversy following allegations that soil from land owned by his family was sold to a zoo controlled by his ministry for Rs 90 lakh without any tender. 
The allegations have been made by senior Bihar BJP leader and former Deputy Chief Minister Sushil Kumar Modi who demanded that Chief Minister Nitish Kumar sack Tej Pratap for his alleged involvement in what he termed as the "soil purchase scam". 
Modi also asked the CM to order probe into the alleged scam of worth Rs 90 lakh. 
"Chief Minister Nitish Kumar should order a high level probe into the 'soil purchase scam' in which Tej Pratap Yadav is involved. CM should sack Yadav from his cabinet without making any delay," Modi said while talking to reporters here on the sidelines of 'Janata Darbar' at his official residence. 
What are the allegations? 
Modi charged Lalu Prasad's minister-son Tej Pratap Yadav of giving contract of Rs 90 lakh for earth filling work in Sanjay Gandhi Biological Park located in the state capital. 
Yadav's department, under whose jurisdiction the Park falls, gave away the contract of Rs 90 lakh to a company without following the tender process for construction of a pathway and beautification work in the park, Modi alleged. 
"The entire episode smacks of misappropriation of public money...Politicians have too started reaping benefits by forming 'shell' companies in Bihar also," Modi said. 
The soil was excavated from a land owned by Lalu's family on the outskirt of Patna where a large mall is being constructed by a private builder. The builder Syed Abu Dojana is also a member of the RJD and is currently an MLA. 
The land is owned by a company where Tej Pratap and his younger brother and deputy Chief Minister Tejashwi Yadav are directors.
In order to initiate the construction of the mall, a huge amount of soil was dug out from the land. The soil, which was deemed surplus, was allegedly sold to the Zoo.