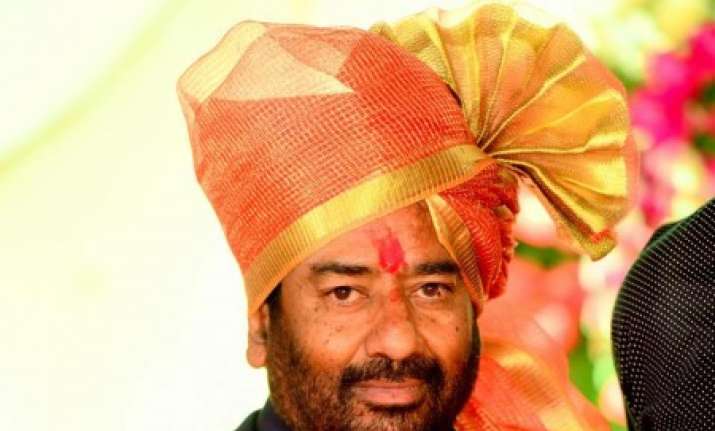 Controversial Shiv Sena MP Ravindra Gaikwad today met party president Uddhav Thackeray and presented his side of story on Air India row.
Gaikwad's meeting with Uddhav came after Air India and other private airlines lifted the ban imposed on him after the Sena MP expressed regret for assaulting an AI employee on March 23.  
The meeting that took place at Shiv Sena's central office in Dadar lasted for nearly 10 minutes.
Neither Thakceray nor Gaikwad disclosed to reporters what transpired in the meeting. 
However, party sources said Gaikwad explained his position over the whole controversy.  
Gaikwad, the MP from Osmanabad, arrived here by the Rajdhani Express this morning after attending parliament proceedings earlier this week. 
The lawmaker boarded the train from Delhi last evening hours after the flying ban was lifted by the national carrier following his letter to Union Civil Aviation Minister Ashok Gajapathi Raju on Thursday in which he expressed "regret" over the "unfortunate incident". 
After Air India, the Federation of Indian Airlines, comprising four leading private carriers, today revoked the flying ban on Gaikwad. 
Jet Airways, SpiceJet, GoAir and IndiGo make up the grouping. 
In a statement, the FIA said its members are restoring the flying privileges to Gaikwad "under the assurance that our assets and colleagues shall be accorded the respect that they deserve for the hard work that they put in every day". 

 

The decision has been taken consequent to Air India restoring flying privileges to Gaikwad after being satisfied with the statement given by him in the Lok Sabha where he expressed "regret" for assaulting an Air India staffer.  
On March 24, Air India barred Gaikwad from flying with it after the incident at the Delhi airport. Subsequently, the FIA barred the Lok Sabha member from flying.  

On Friday, sources had said the Civil Aviation Ministry asked Air India as well as other airlines to lift the ban imposed on Gaikwad citing the "undertaking of good conduct" given by him. 
The 56-year-old Parliamentarian had assaulted AI employee R Sukumar on March 23 after he landed in Delhi on a Pune-Delhi all-economy flight.
(With PTI inputs)