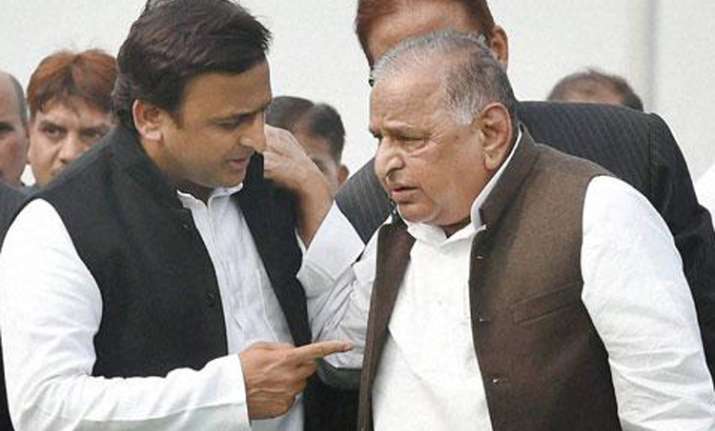 Samajwadi Party patriarch Mulayam Singh Yadav on Monday met the Election Commission to claim the "cycle" symbol of the party saying he is still the head of the party that he founded 25 years ago. 
The meeting came two days after another faction, led by his son and Uttar Pradesh Chief Minister Akhilesh Yadav submitted to the Election Commission affidavits which it claimed to have signatures of "90 per cent" of legislators and delegates, including over 200 of the 229 MLAs and 56 of 68 MLCs.
The Akhilesh faction's documents were submitted by his loyalist uncle Ram Gopal in copies of seven as asked by the poll panel.
However, Mulayam's claim on the party and the election symbol lies on the argument that the process followed to call national convention on January 1, where he was removed by his son Akhilesh, was not in the line of party constitution so the entire exercise was "illegal". 
In his meeting with the Chief Election Commissioner Nasim Zaidi,  Mulayam presented a list of 10 questions which he wants the Akhilesh faction to answer. 
Here is the list of questions, Mulayam has asked his son: 
1. First Ram Govind Choudhary's name was called to chair the national convention on January 1 and later Kiranmoy Nanda was called. How could there be two presidents in a single convention? 
2. At least three days are required in advance to announce a special convention, how could Ram Gopal, who was ousted on Dec 30, call on the same on Jan 1? It was unconstitutional.
3. After his six-year suspension from the party, Ram Gopal was reinstated through a tweet from Shivpal's Twitter account. This wasn't official. Moreover, a state president cannot appoint National general secretary. No paper work was done for the same.
4. For removing national president of the party, a proposal had to be made but it was never done.
5. For appointing new national president, process of nomination has to be followed but it did not happen. If a single person stakes claim for the post, he has to wait for the second one for some time after that only nomination is closed.
6. Ram Gopal himself proposed the move and later supported it which is not plausible. Someone else should have come to second it.
7. According to party constitution, national meet can be convened only after 40 per cent of members demand it, which did not happen.
8. Constitution also bars the national general secretary to propose the removal of party's national president. 
9. Party Constitution also says that in case of any dispute in selection of representatives of the party, the decision of party president will be mandatory. Then how could these same representatives ousted the national president?
10. The national president nominates 10 per cent of party representatives for the national convention, a process not followed for the January 1 meet.