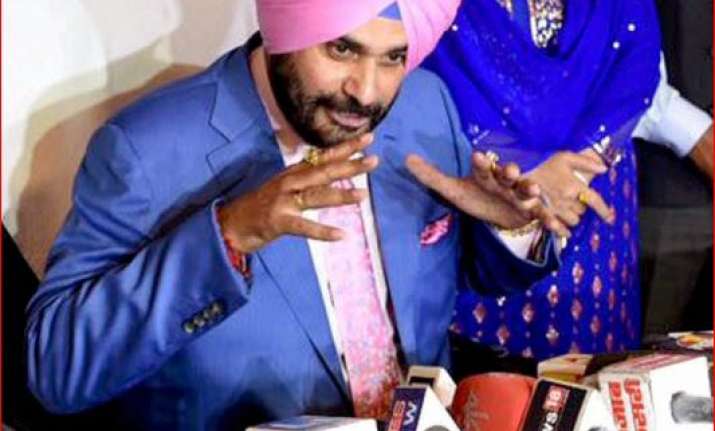 The newly appointed Punjab minister Navjot Singh Sidhu on Friday said that Chief Minister Captain Amarinder Singh was like his father and that he would have served as an MLA if the Captain had asked him for the same.
Sidhu, the cricketer-turned-politician, has been made minister for local government and tourism and cultural affairs, archives and museums, in Amarinder Singh cabinet.
Navjot Singh Sidhu also said that he would continue doing his television show.
"There were a lot of discussions on Sidhu will become this and that... I am thankful to the people for their wishes and intentions. But I always kept away from this," he said after assuming office today.
On speculation about him being made the Deputy Chief Minister, Mr Sidhu said, "Had the Captain (Mr Amarinder) asked me to serve by being an MLA, I would have done that too."
"I am happy with anything and everything that Captain sahib, Rahul ji and Priyanka ji think and deem fit for me. I have come to put the state on the right track and not fulfil any private interest," he said.
Speculation was rife that Sidhu would be made Deputy Chief Minister. However, he featured second on the list of nine ministers who were sworn in yesterday.
The former BJP MP said he had been offered by the BJP to contest elections from Kurukshetra, Chandigarh and West Delhi in the 2014 Lok Sabha polls, but a Rajya Sabha seat did not matter to him as it forced him to stay away from his roots.
Mr Sidhu said emphasised that the new Congress government in Punjab would have to work with a positive intent for the first six months.
"The first six months, we have to work with positive intent. We have to be true in our work," he said while describing Chief Minister Amarinder Singh as a father figure to him.
"Amarinder, who is like my father, told me to show positive intent of the government in the first six months," he said.
Will Mr Sidhu continue with his television commitments? Mr Sidhu said he can discharge his duties as a minister even while doing the show.
"I won six elections in the last 12 years... if the public has no objection (to his TV show) then why are you (the media) objecting to it," he asked.
(With PTI inputs)