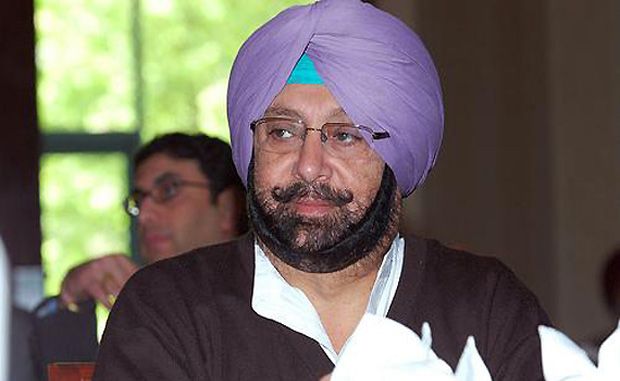 Punjab Chief Minister Captain Amarinder Singh today welcomed the Army chief's decision to give a Commendation Card to Major Nitin Gogoi for "sustained efforts" in counter-insurgency operations.
Amarinder Singh, a former Army Captain, dubbed the move as "upholding the highest traditions of the Army, which has always rewarded bravery and recognised initiative".

Major Gogoi used a Kashmiri man as human shield on his jeep to thwart a stone-pelting mob on April 9 during the Srinagar Lok Sabha by-election.


The Chief Minister lashed out at those demanding action against the Major, saying "they clearly had no inkling of the way the Army works and the traditions which continue to make it a unique institution rooted in a distinctive culture of valour and courage". 
A video clipping of the Kashmiri man -- later identified as Farooq Ahmad Dar -- tied to a moving Army jeep in Budgam in Jammu and Kashmir had gone viral on April 9, creating an uproar. 
On April 15, the Army ordered a Court of Inquiry, the report of which is pending.
Amarinder Singh said the officer exemplified a high level of presence of mind and daring -- two attributes of a good Army officer.
The Chief Minister, the first political leader to call for an award for the Major, said it was good that the Army stood by the young officer despite criticism from certain quarters.
"You cannot let the Army deal with such stone-pelting mobs with one hand tied behind their backs," Amarinder Singh said, adding he would have done the same had he been in Major Gogoi's place.
Amarinder Singh served in the Army in the 1960s.
He said it is important to send out a strong signal in the Major's support to show that the Army is neither weak nor our officers the underdogs.
"Human rights cannot be allowed to be used as a shield for lawlessness," the senior Congress leader said.
He said the Army cannot be expected to negotiate peace without first getting an upper hand against terrorists and other elements bent upon disrupting India's stability.
"In any case, don't human rights apply to security forces who risk lives every day for the protection and safety of the common people?" he questioned.
The Chief Minister said to ensure peace and stability in Kashmir, and on the borders, it is necessary to give the Army a free hand.
(With IANS inputs)