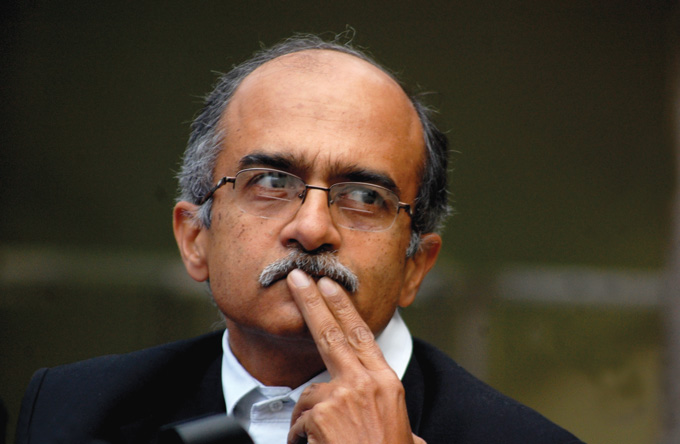 Lawyer-politician Prashant Bhushan today apologised for his controversial tweet on Lord Krishna comparing him with the eve-teasers of UP against whom the Yogi Adityanath government has constituted 'anti-Romeo' squads.
Admitting that his tweet on Lord Krishna was "inappropriately phrased", Prashant Bhushan also deleted it from his time line. 
"I realise that my tweet on Romeo squads & Krishna was inappropriately phrased & unintentionally hurt sentiments of many ppl. Apologize & delete it," Prashant Bhushan tweeted today.
I realise that my tweet on Romeo squads&Krishna was inappropriately phrased&unintentionally hurt sentiments of many ppl. Apologize&delete it

— Prashant Bhushan (@pbhushan1) April 4, 2017
The apology by Prashant Bhishan, co-founder of political party Swaraj Abhiyan, came two days after Delhi BJP spokesman Tajinder Pal Singh Bagga filed a complaint against him in this regard at the Tilak Marg police station. 
Criticising the formation of "anti-Romeo" squads by the new Uttar Pradesh government, Prashant Bhushan had tweeted, "Romeo loved just one lady while Krishna was a legendary eve-teaser. Would Adityanath have the guts to call his vigilantes Anti-Krishna squads?"
Enraged over his remarks, a group of people gathered outside his residence demanding an apology and threw ink at the nameplate bearing his father Shanti Bhushan's name.
Prashant Bhushan came up with a clarification on his tweet in which he said "my tweet on Romeo brigade being distorted. My position is: By the logic of Romeo Brigade, even Lord Krishna would look like eve teaser. We have grown up with legends of young Krishna teasing Gopis.The logic of Romeo squad would criminalise this. Didn't intend to hunt sentiments."
However, the protests continued as it failed to pacify people who were hurt over his remarks.