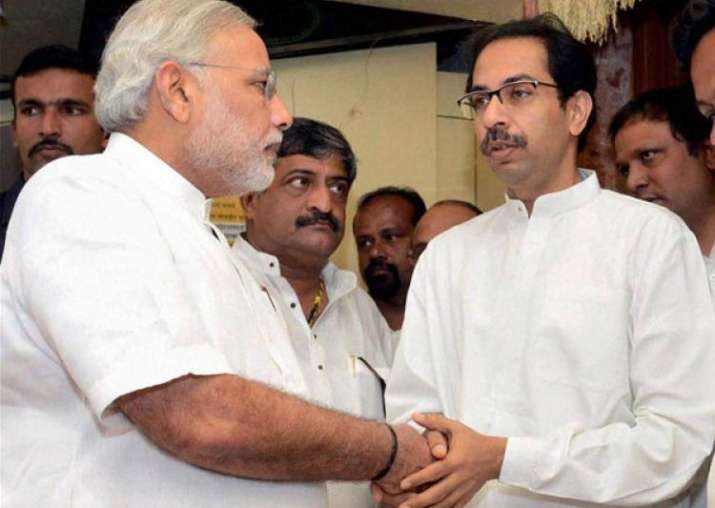 The top leaders of National Democratic Alliance (NDA) will convene a meeting a today, which is likely to be attended by representatives of 32 parties, including Shiv Sena chief Uddhav Thackeray. 
The meeting, which will be chaired by Prime Minister Narendra Modi, will be the second after BJP was voted to power in 2014. 
PM Modi will host a dinner for about 50 leaders from the BJP and its 31 allies to discuss his government's achievements and challenges.
Sources said TDP chief and Andhra Pradesh Chief Minister Chandrababu Naidu and his Jammu and Kashmir counterpart Mehbooba Mufti among others, besides BJP President Amit Shah, will attend the meeting.
The leaders will take stock of the political situation and decide on future strategy of the alliance and also discuss on the name of the nominees for next President.  
Besides, a number of Union ministers will be present at the meeting, the sources said. 
They said representatives of all the allies of the BJP across the country will participate in the meeting during the evening, followed by dinner.
According to a Hindustan Times report, a separate meeting between PM Modi and Uddhav Thackeray is likely to take place. This will be significant for both BJP and Shiv Sena as the parties share a strained relationship in Maharashtra. BJP leaders are now hoping that the Modi-Uddhav meet will improve the relations.
Earlier the Shiv Sena had threatened to boycott the NDA meeting after its party MP Ravindra Gaikwad was blacklisted and grounded by several airline carries for assaulting an Air India staffer. 
The ban was, however, revoked on Friday after Gaikwad tendered a letter expressing 'regret' over the incident to Civil Aviation Minister A. Gajapathi Raju.
Shiv Sena has declared its support for RSS chief Mohan Bhagwat for the next President. 
The party said that the NDA should consider Bhagwat's name for the post if the dream of a "Hindu Rashtra" has to be fulfilled. This had led the RSS chief to clarify that he is not in the race.