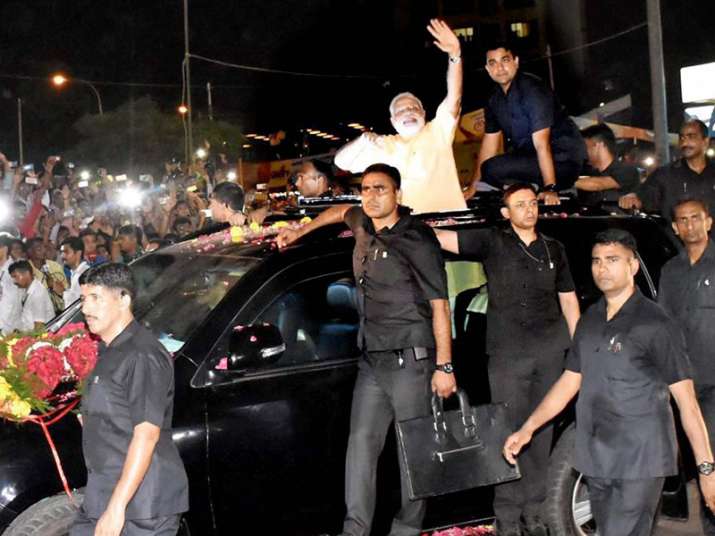 Prime Minister Narendra Modi will today inaugurate a series of projects in Gujarat during his two-day visit to the state where elections will be held later this year. 
The Prime Minister will first inaugurate a Multi Super Speciality Hospital and Research Centre in Surat and a diamond polishing at Hira Bourse Special Economic Zone at Icchapur.
He will also go to Bajipura village in Tapi district to inaugurate a cattle feed plant and ice-cream plant of Sumul Dairy and lay foundation stone for dairy products plant at Nava Pardi. He will also address a large gathering there. 
Modi will then visit Silvassa town in the Union Territory of Dadra and Nagar Haveli, where he will address a gathering apart from inaugurating a few projects.
In Saurashtra, Prime Minister will inaugurate phase-1 of the ambitious Saurashtra Narmada Avtaran Irrigation project for Botad and surrounding districts and also lay foundation stone for the phase-2. Under the project divided in four phases, the Gujarat government plans to fill 115 dams of Saurashtra region with overflowing water of Sardar Sarovar Dam across river Narmada through a web of pipeline network.
Yesterday, PM Modi had virtually sounded the poll bugle in his home state by holding a 11 km roadshow in Surat, a Patel community stronghold, where he was accorded a rousing reception. 
The roadshow, which began from the airport around 7.25 PM and ended at 9.25 PM at the Circuit House, was a mega outreach by Modi in the election year after the BJP decided to project him as the face of 2017 state Assembly polls, which will be a battle of prestige for the Prime Minister in his home state. 
This was Modi's first visit to Surat, the hub of Patidar agitation for reservation in government jobs and educational institutions, after assuming the office in 2014. 
A large number of people, waving the tricolour, and chanting "Modi! Modi!" and "Bharat Mata Ki Jai", stood along the road illuminated with lights of different colours as the Prime Minister acknowledged greetings from the cheering crowd by waving to them while standing through the open sunroof of an SUV for almost two hours. 
This was Modi's second visit to his home state this year. He had earlier visited Gandhinagar on March 8 to address women sarpanches from across the country on International Women's Day.