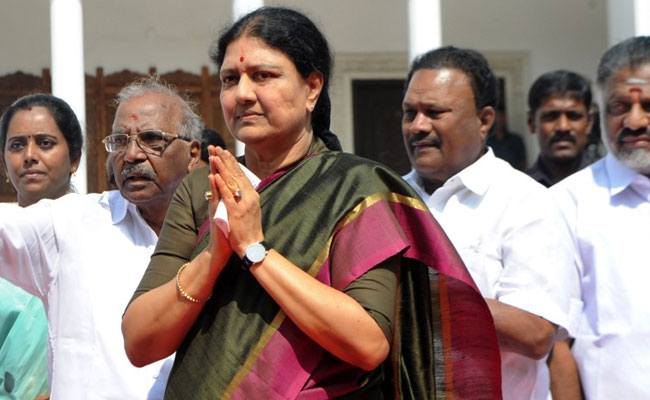 A Public Interest Litigation was today filed in the Supreme Court seeking to restrain the swearing-in of AIADMK leader VK Sasikala as the Tamil Nadu Chief Minister tomorrow. 
Sasikala, who was named the General Secretary of the AIADMK after Jayalalithaa's death in December last year, will take oath as Tamil Nadu's third woman Chief Minister tomorrow. She was elected as the Legislative party leader by the AIADMK MLAs yesterday, following which Chief Minister O Panneerselvam tendered his resignation.  
Many have accused her of making a "backdoor entry" to the post as she has never held any post in the government or party before.  
Sasikala was a long time aide of late Chief Minister J Jayalalithaa and lived with her for over three decades.  
The voice of resentment began to rise within the party today with a former AIADMK minister K P Munusamy questioning Sasikala for making a 'backdoor entry'. 
He also questioned why O Panneerselvam made way for her despite being the "preferred choice" of Jayalalithaa.  
Munusamy, a critic of the AIADMK legislature leader, asked what political sacrifice she had made or what political history she had to become chief minister of the state.  
"Without doing any political sacrifice, without having any political history, within 60 days of Amma's (Jayalalithaa) death, she has made a backdoor entry," he told reporters here, referring to the AIADMK chief's election as its Legislature Party Leader. 
He also asked what was the 'compulsion' for Panneerselvam to make way for her.  
"He had been appointed twice as Chief Minister by Amma. Why did he compromise that for Sasikala? What was the compulsion?" he asked. 
Panneerselvam served as the stopgap Chief Minister twice, first when Jayalalithaa was unseated following a Supreme Court order in 2001 and again when she was convicted in a disproportionate assets case in 2014. 
Munusamy said Panneerselvam was not a mere individual but a CM chosen by Jayalalithaa "who lives in the hearts of lakhs of people" he said. 
"How could you (Panneerselvam) pawn it to them (Sasikala family)?" he asked.