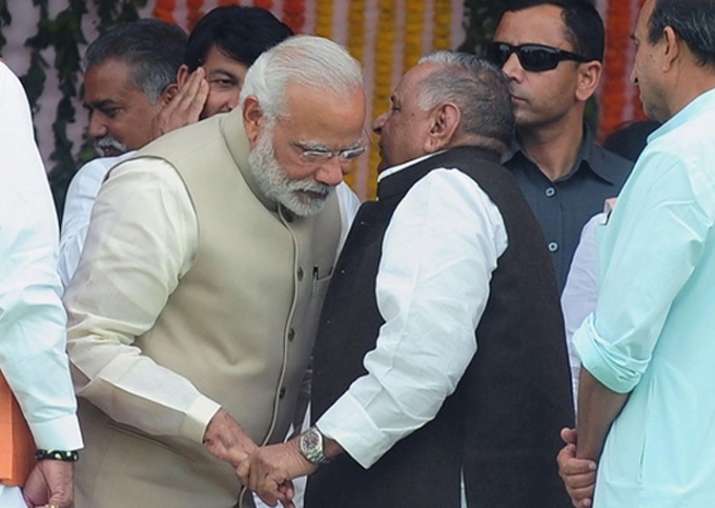 Prime Minister Narendra Modi's visit to Uttar Pradesh's capital city of Lucknow comes at a very special time. His surprise move to nominate Dalit leader and Bihar Governor Ram Nath Kovind as the NDA's pick for President has stumped opposition parties. Regional players like TDP, YSR Congress, Naveen Patnaik's BJD, Samajwadi Party and BSP have either already extended their support for Kovind's candidature, or have signalled a positive intent. Besides, Bihar Chief Minister Nitish Kumar too has expressed happiness over development, much to the embarrassment for the Congress party. 
As Prime Minister Modi arrives in Lucknow this evening, he will be meeting scores of leaders over dinner including former Chief Ministers Akhilesh Yadav, father Mulayam Singh and Mayawati. The leaders from two opposition parties have given their consent to attend the dinner hosted by CM Yogi Adityanath in honour of Narendra Modi who is in Lucknow to take part in the International Yoga Day celebrations on June 21.
Former UP CM Mulayam Singh Yadav confirms to ANI that he is attending today's Lucknow dinner, to be hosted by UP CM in honor of PM Modi.

— ANI UP (@ANINewsUP) June 20, 2017
According to a report in Times of India, the CM's office had sent invitations to all opposition parties leaders including SP patriarch Mulayam Singh Yadav for Tuesday's dinner. Mulayam, his son Akhilesh and Mayawati have accepted the invitation to attend the dinner. Leader of Opposition in Uttar Pradesh Assembly Ram Govind Chaudhary will also be present on the occasion, it said.
The opposition leaders' acceptance to the invite indicates that both SP and BSP are ready to back Kovind's candidature. In such a scenario, the Congress party, which has been struggling to form an alliance of opposition parties to take on BJP, will once again be left red-faced.
Kovind, who belongs to the Dalit community, hails from Kanpur Dehat district in Uttar Pradesh. He has been a Rajya Sabha MP for two terms -- 1994-2000 and 2000-2006. A lawyer by profession, Kovind was appointed the Governor of Bihar on August 8, 2015.
Kovind is likely to file his nomination on June 23 as Modi will be embarking on a two-day US trip starting June 24. Voting will take place on July 17 from 10 am to 5 pm at the places of polling fixed under the rules. The results will be out on July 20.