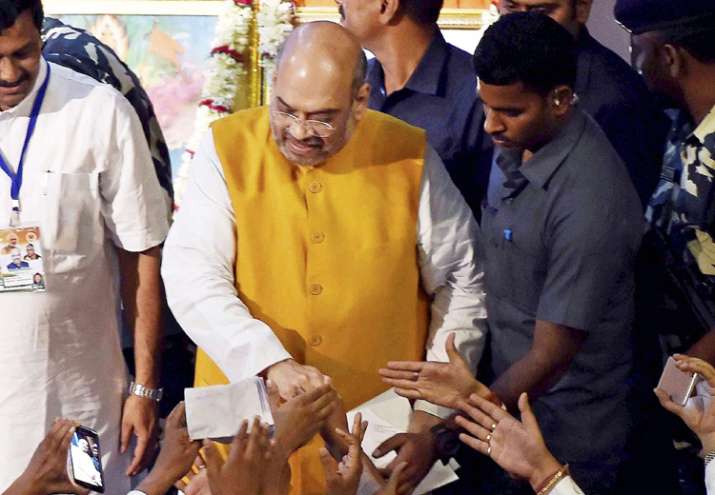 Seeking to expand his party base in West Bengal, BJP president Amit Shah today visited a slum in Chief Minister Mamata Banerjee's home turf in her Bhawanipur assembly constituency and garnered a warm welcome for himself. 
While being greeted by the residents of some houses in the slum, Shah said that Prime Minister Narendra Modi's "vijay rath" would roll into Bengal in 2019. 
The BJP president got a warm welcome with some residents blowing conch shells and doing 'aarti' to greet him while the others showered flower petals on him as he visited a house negotiating a narrow lane. 
Some residents said they offered him 'rasogolla' and sugar-less lassi as Shah enquired about their well-being and the problems faced by them. 
Some residents regretted that they could not meet him due to a surging crowd. 
Before visiting the 'Lockgate Basti,' Shah interacted with the booth-level workers of his party in the Bhawanipur constituency and urged them to visit the people at the grassroot level to expand the party's base "Remember, you are a member of the world's biggest political party. Prime Minister Narendra Modi's policy is to take everybody along. There should not be any injustice to anyone. It is sabka sath, sabka vikash," he told them. 
The BJP president alleged that the TMC was practising the "appeasement and vote bank politics" and has unleashed the violence against rival political workers. 
But, he asserted, whatever be the scale of violence, lotus would bloom here. 
Amit Shah rejects TMC's charge of its leaders being 'framed'
Amit Shah today rejected the TMC's allegation that the BJP was behind the "conspiracy" to get its leaders falsely implicated in graft cases, saying Mamata Banerjee's party had no answer to questions being raised about scams. 
"This is not mere allegation. There is no conspiracy. They (TMC leaders) were seen on TV taking money. The entire world can see it," he said, rejecting the TMC's charge that a conspiracy was hatched by the BJP to "frame" its leaders in corruption cases.
 
"Whether it is Saradha or Narada, the TMC leadership is not in a position to answer questions about it. But the people of the state are asking these questions," Shah, who is on a trip to West Bengal to explore ways to expand the BJP's footprint in the state, said.
 
"Mamata Banerjee has developed BJP phobia. She is seeing BJP in everything," he told journalists at the press club here. 
The BJP president also accused the TMC government of practising "politics of appeasement".
Targeting the Mamata Banerjee government over its handling of the state's economy and law and order, Shah said, "There is no industry in the state. Only bomb-making industry has flourished here." 
"The sound of bomb blasts can be heard in a state where Rabindra Sangeet used to reverberate once," he said. 
Claiming that "politics of appeasement will boomerang on Didi (Mamata)," he said that the BJP's slogan is "Ebar Bangla" (Bengal now), following the party's recent victories in four states. 
"I believe that the people of Bengal are angry over the way TMC is indulging in politics of appeasement," the BJP president said. 
"Can one imagine that immersion of Durga idols has to be done with the help of high court's order, or Saraswati puja is not being allowed to be held?" he said. 
"The way the government is treating the people of the state differently is alarming," Shah, whose party has often accused the Banerjee government of neglecting Hindus, said. 
Maintaining that the BJP has not done anything to divide people on the basis of their religious faith, Shah said, "We don't divide voters on the basis of who belongs to minority or majority, we only think of development of people." 
Claiming there were no allegations of corruption against any of his party's functionaries, he said, "Our fight is against TMC and corruption. We are witnessing an unprecedented support for BJP in West Bengal." 
Asked about attacks by cow vigilantes in some parts of the country, Shah said, "Everyone has to abide by the law. 
Cases have been registered and arrests made wherever such incidents have happened." 
Claiming that West Bengal was in a "pathetic shape", Shah said, "We had thought after the end of the Left rule, the state would move forward, but six years of TMC dispensation has only caused despair." 
"The Left Front had left a loan burden of Rs 1.92 lakh crore on the people of the state, and now the state is saddled with a debt burden of Rs 3.5 lakh crore," the BJP chief said. 
"One-fifth of people in Bengal are below poverty line and labourers are in a very bad condition," Shah said. 
"While the Bengal chief minister went around the country speaking against scrapping of high-value notes, the state completely failed in tackling the menace of fake currency," Shah alleged. 
He rebutted Mamata Banerjee's claim that the Centre had reduced allocations to the state under different development schemes. 
"I have figures to show that central allocations have gone up under various schemes. One cannot deny facts by conjuring something from thin air," he said. 
Claiming that the BJP-led NDA government has done a lot for the state's development, Shah said the allocations to West Bengal were substantially raised by the 14th Finance Commission. 
Commenting on Shah's statement, TMC secretary general Partha Chatterjee said, "What he has said is nothing new. It is old wine in new bottle. He could not see the development that has taken place during the TMC rule". 
"They are telling lies. One thing I can say is that in Bengal there is no alternative to Mamata Banerjee," he said.