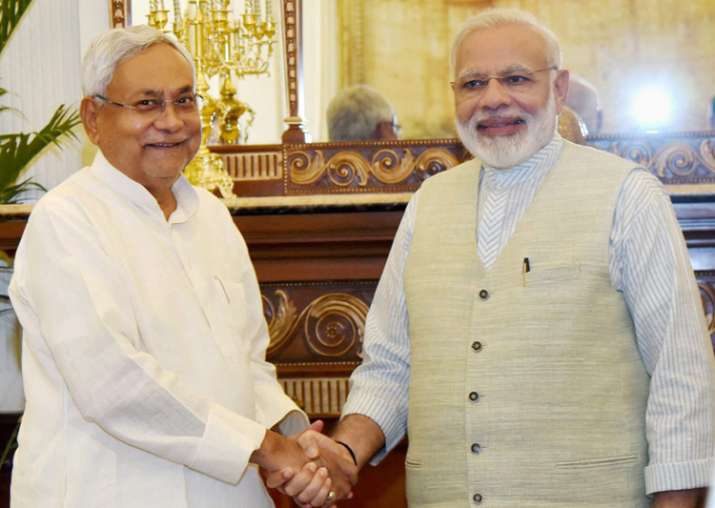 Bihar Chief Minister Nitish Kumar today rejected suggestions of growing bonhomie between him and Prime Minister Narendra Modi, saying 'he met the latter to discuss issues related to his state'.
Kumar's meeting with the Prime Minister comes a day after he skipped a meeting of opposition parties convened by Congress president Sonia Gandhi in an effort to forge an opposition unity particularly in the context of upcoming presidential polls.
"The Chief Minister of Bihar, Shri @NitishKumar met PM Shri @narendramodi in New Delhi today," PMO said in a tweet. 
Kumar, who also is the president of Janata Dal (United), was in the national capital today to attend a lunch hosted by PM Modi in honour of visiting Mauritius Prime Minister Pravind Jugnauth.
The Chief Minister of Bihar, Shri @NitishKumar met PM Shri @narendramodi in New Delhi today. pic.twitter.com/cv784LHQth

— PMO India (@PMOIndia) May 27, 2017
Kumar did not attend Friday's opposition meeting that was attended by several top leaders to discuss a consensus presidential candidate. Kumar's party was, however, represented by leaders like Sharad Yadav and KC Tyagi at the meeting. His absence from yesterday's meeting was reported as a major setback to non-BJP parties who may field a common candidate in coming Presidential election to give the BJP a jolt. 
Speaking to reported here today, Kumar said that opposition unity on the issue of the presidential election is intact and clarified that he came to attend the lunch hosted by the PM as it was in honour of the visiting Mauritius Prime Minister.
"Opposition is united on the issue of presidential election," he said.
The JD (U) leader also said that it was unfair to compare the luncheon meeting organised by Sonia for opposition leaders, with that hosted by Modi, and added that it was 'always clear' that Sharad Yadav would go for the opposition meeting .
"Half of the population in Mauritius is of Bihari origin. We have an emotional connect with Mauritius so I thought it is appropriate to accept the invitation," Kumar said.
Asked about his skipping the Friday opposition meet, Kumar said, "What is the connection between the two? I have already met Sonia Gandhi on April 20."
"It was already decided that Sharadji will go for that meet. The invitation for today was for the Bihar Chief Minister. Comparing the two is a misinterpretation of the situation," he added.
The CM also said that he urged the Prime Minister to send a team of experts before the arrival of monsoon to study the situation of flooding in his state.
According to Kumar, he handed over a letter to the Prime Minister demanding special grants for Bihar.
"We have the mandate of people, we have a 'Mahagatbandhan' (grand alliance). Raising the issues of the state with the Centre is our duty," he said.