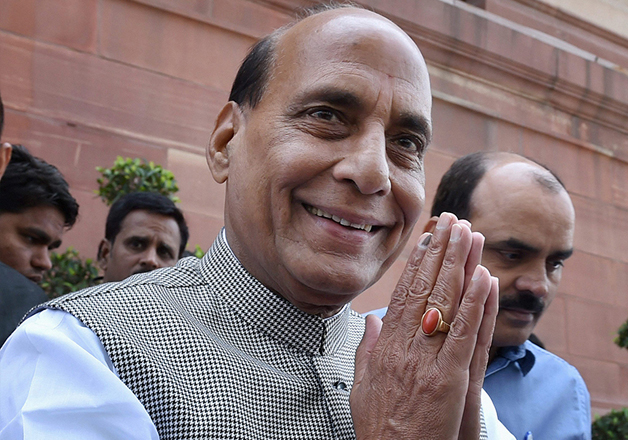 Having registered an emphatic win in the recently concluded assembly polls in Uttar Pradesh, the Bharatiya Janata Party (BJP) will declare the name of the Chief Minister of the state after a meeting of the BJP's Legislature Party meet tomorrow.
The new CM along with his cabinet will take oath on Sunday, March 19. The meeting on Saturday will be attended by party leaders Venkaiah Naidu and Bhupendra Yadav.
According to agency reports, including those from ANI, the oath ceremony of the new UP CM and ministers will be held on March 19 at Smriti Upwan, Lucknow. 
Uttar Pradesh: Oath ceremony of new UP CM and ministers to be held on 19th March at Smriti Upwan, Lucknow.

— ANI UP (@ANINewsUP) March 17, 2017
Prime Minister Narendra Modi and party president Amit Shah will also be present at the occasion.
Uttar Pradesh: Prime Minister Narendra Modi and BJP President Amit Shah to be present at the oath ceremony. pic.twitter.com/6ElSH3dW0z

— ANI UP (@ANINewsUP) March 17, 2017
#FLASH BJP's legislature party meet will be held in Lucknow on 18 March; Venkaiah Naidu & Bhupendra Yadav to attend. pic.twitter.com/it4Tco6KAu

— ANI UP (@ANINewsUP) March 16, 2017
Meanwhile, speculation is rife on who gets the charge at the helm of affairs in the politically crucial state. Reports say senior BJP leader and Union minister Manoj Sinha could be the party's final pick for the post of Chief Minister in the state, where the party will return to power after a gap of 14 years.
As of now, Sinha, who represents Ghazipur in the Lok Sabha, is among the frontrunners in the race for the CM's chair in the country's most populous state. However, he has denied any knowledge of the development so far. 
Neither I am in the race (for UP CM) nor do I know of any such race: Manoj Sinha, Union Minister pic.twitter.com/wQROjVuXCe

— ANI (@ANI) March 17, 2017
Sinha has a proven administrative record by serving in two Union Ministries – MoS (Independent Charge) of Communications and MoS for Railways. 
Sinha, who holds a B.Tech  and M.Tech degree in civil engineering from the Indian Institute of Technology (BHU) Varanasi, is amiable to workers and colleagues. Born July 1, 1959, in Mohanpura, Ghazipur district, Sinha was inducted as a member of the BJP National Council in 1989. He was elected for successive terms in 1996 and 1999 and again in 2014 to the Lok Sabha from Ghazipur. 
Sinha was made the MoS for Railways in the first set of ministers inducted into Narendra Modi government in May 2014. In July 2016, during the second Cabinet reshuffle, he was also made MoS (Independent Charge) of the Communications.
Meanwhile, the newly-elected legislators of the BJP will meet in the state capital tomorrow to elect the new Chief Minister. A communique to all the 312 BJP MLAs had been sent, asking them to be present in the state capital on that day, a party leader said.
BJP's state unite general secretary Vijay Bahadur Pathak, while confirming the date for the legislators' meet also informed that two central observers -- M Venkaiah Naidu and Bhupendra Yadav -- will be here to oversee the election of the new leader.
The BJP, which won three-fourths majority in the 403-member House, is returning to power after 14 years. It has 325 seats, including its allies, in the 17th Vidhan Sabha. 
Names of more union ministers, Rajnath Singh, Smriti Irani and Kalraj Mishra, Lucknow Mayor Dinesh Sharma, national BJP spokesperson Shrikant Sharma and Gorakhpur MP Yogi Adityanath are doing rounds for the state's top post. However, insiders say that Sinha was the final choice of the central leadership.
Another name in contention for UP's top post is of Swatantra Dev Singh. A committed RSS pracharak since 1986, Singh is a Kurmi by caste. It is said that Singh had played crucial role in making PM Modi's rallies a big success. 
In 1988-89, Singh was made organising secretary of the ABVP, a right-wing all India student organisation affiliated to the RSS. In 1996 and 1998, he was made general secretary of the BJP's Yuva Morcha.
In 2001, he was appointed as the chief of Yuva Morcha's Uttar Pradesh unit. Three years later, he was sent to the state legislative council. Between 2004 and 2014, he had served twice as the BJP's UP unit general secretary. In 2010, he was made the party's UP unit vice-president.