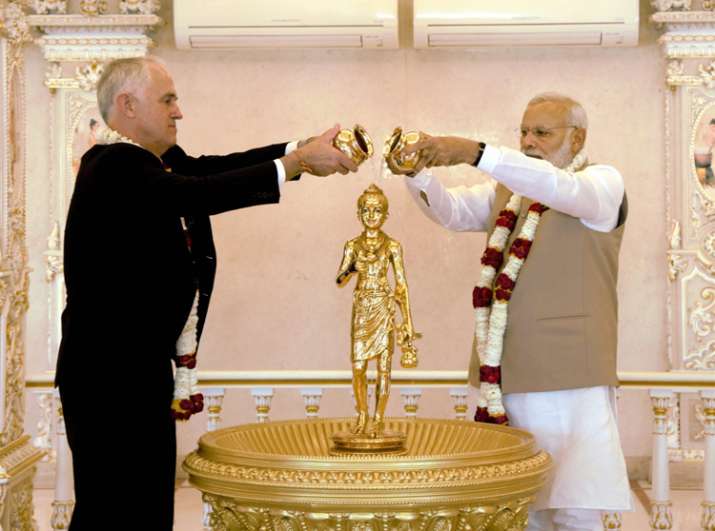 Prime Minister Narendra Modi and his Australian counterpart Malcom Turnbull on Monday took the Metro from Mandi House station to visit the famous Swaminarayan Akshardham Temple in east Delhi. 
The leaders reached the Mandi House station around 4 PM where an official briefed Turnbull about the 213-km, and expanding, metro network. 
"They travelled with tokens like regular commuters do. They were also shown the wall exhibits that trace the history of the Mandi House circle. Train movement was not affected on Blue Line due to the VIP movement," a DMRC official said.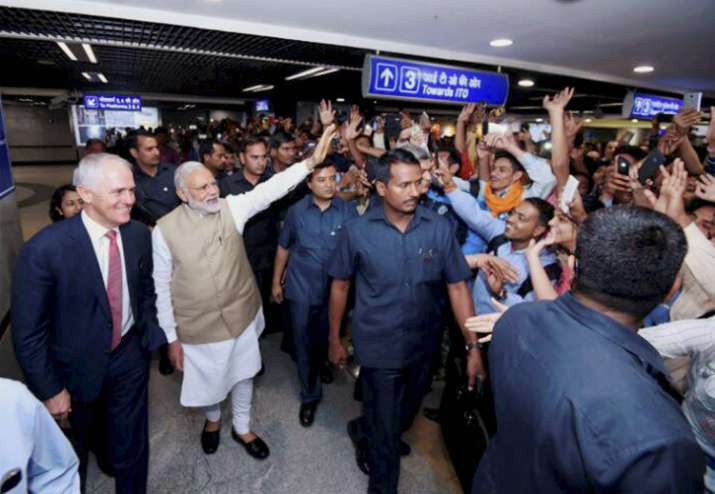 Modi waves at commuters at Mandi House metro station
The movement of commuters was regulated during their journey. 
During the course of their brief metro journey, Turnbull took a number of selfies and uploaded them on Twitter.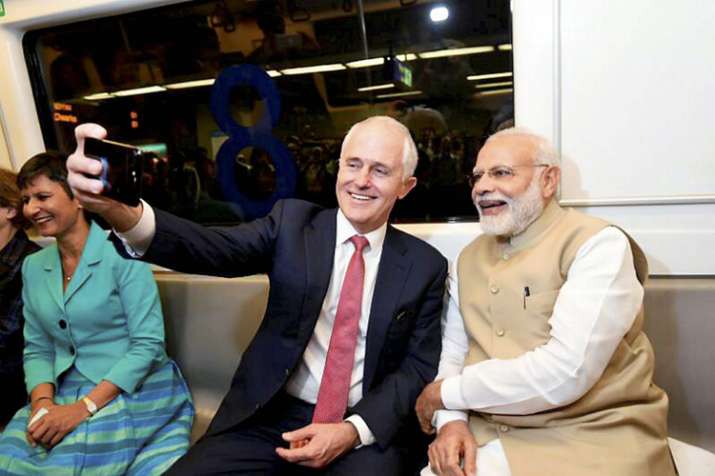 Turnbull takes selfie with Modi while travelling in Metro
"On board the Delhi Metro with PM @TurnbullMalcolm. We are heading to the Akshardham Temple," Modi tweeted with a picture where Turnbull is seen taking a selfie with him. 
Turnbull also tweeted "With @narendramodi on the Delhi Metro Blue Line - 212 kms & 159 stations since 2002."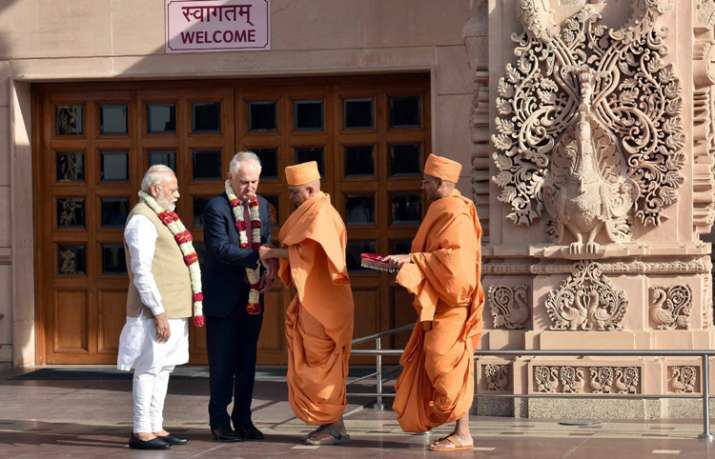 Modi and Turnbull being given traditional welcome on visit to Akshardham Temple
They reached the Akshardham station around 4.15 PM. 
The two leaders were welcomed by priests with garlands upon their arrival at the temple. A priest also tied sacred thread to their wrists as Modi explained its significance to Turnbull.
Before stepping into the temple, the two leaders obliged photographers too.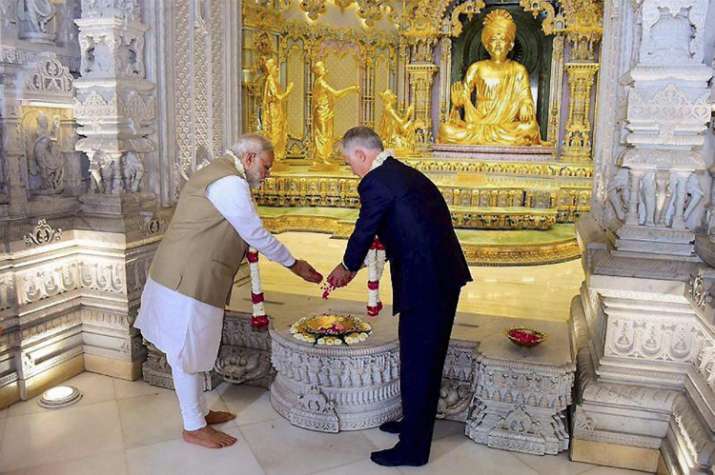 Modi and Turnbull offering prayers to Lord Swaminarayan at the Akshardham Temple
They also took a tour on a golf cart to see other attractions within the temple complex. 
As they walked on the temple steps, a priest, who they flanked, acquainted them with its architecture.
Turnbull and Modi offered flowers at the Akshardham Temple and posed for joint photographs there. "Visited the magnificent Akshardham Temple with PM @TurnbullMalcolm," Modi tweeted along with a set of photographs.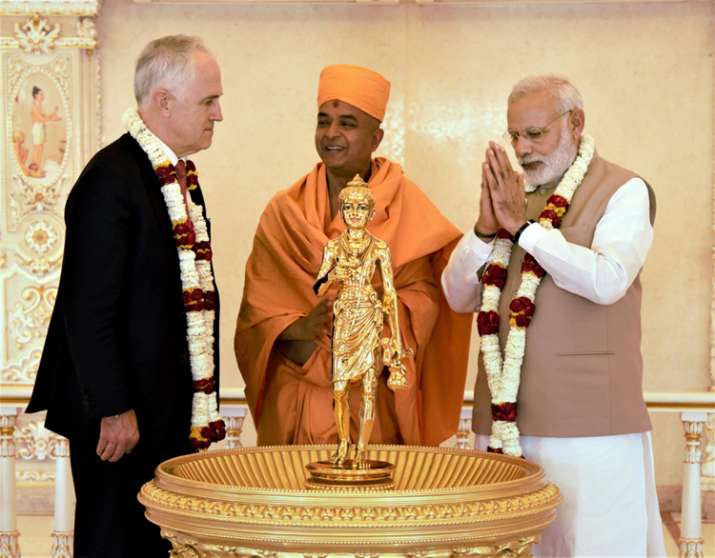 Modi and Turnbull at the Akshardham Temple on Monday
Turnbull was seen admiring the temple structure, endowed with architectural grandeur. The temple is run by priests from the Swaminarayan sect and was opened to the public in 2005. 
Both leaders also sat on the steps of the temple and were seen chatting.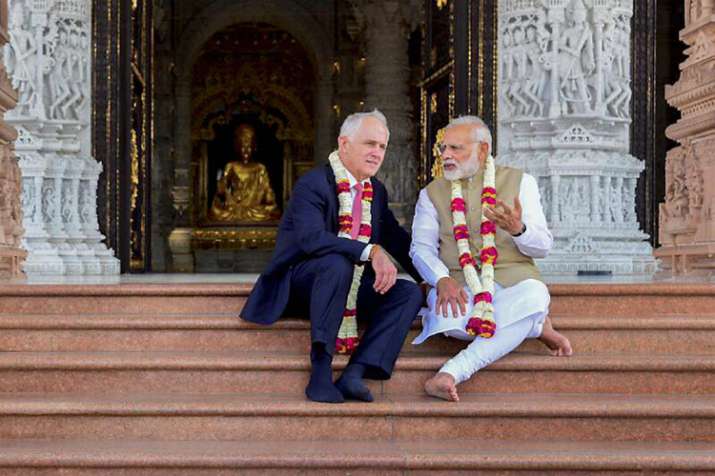 Modi and Turnbull during their visit to the Akshardham Temple
Swaminarayan sect is a modern spiritual tradition. A sub-sect of Vaishnava Hinduism, it originated in Gujarat. Its followers offer devotion to and worship Swaminarayan as a form of Parabrahma. 
The sect has temples in various parts of the world, including in the US and countries of Europe. Australia's Sydney, Melbourne and Perth are among other cities which have Swaminarayan temples.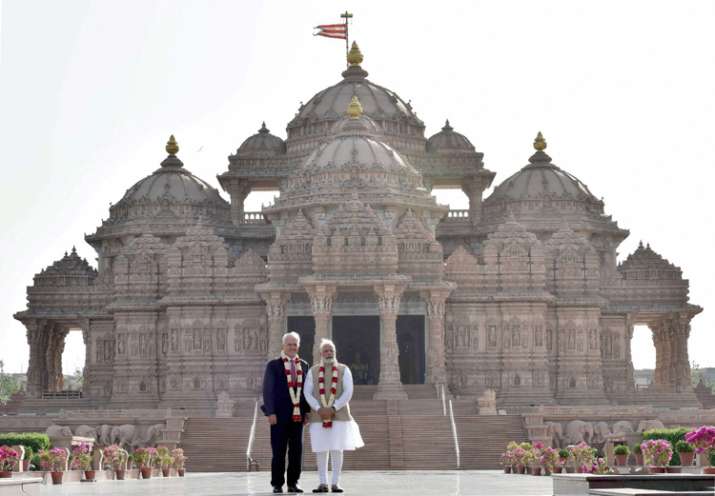 Modi and Turnbull posing for pics during their visit to Akshardham Temple
The Australian Prime Minister arrived here on Sunday on a four-day state visit to India.
This is Turnbull's first bilateral visit to India since he assumed office in September 2015.
His predecessor Tony Abbott had visited India in September 2014 and this was followed by Prime Minister Modi's visit to Australia in November that year.