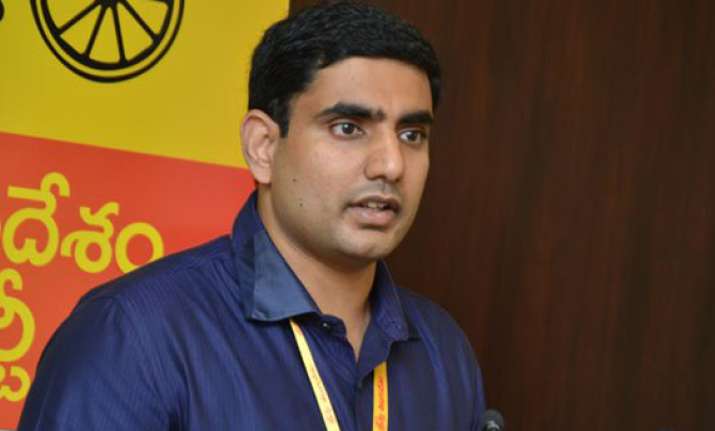 Chief Minister N Chandrababu Naidu's son Nara Lokesh, four MLAs of the opposition YSRC who switched loyalty to the ruling TDP-BJP coalition, and six others were on Sunday inducted into the Andhra Pradesh Cabinet. 
Lokesh was elected unopposed as an MLC under the MLAs quota on March 10 alongside four others from the ruling Telugu Desam Party (TDP).
Lokesh, who has been part of the TDP fold since the 2009 elections, officially joined the party in 2013. 
However, Lokesh's hasty election and induction and imminent induction into the Cabinet is said to be the fallout of a March 6 Supreme Court notice to Naidu in the cash-for-votes case pursued by the Telangana Anti-Corruption Bureau. 
Lokesh had caused a furore, when he declared his assets worth Rs 330 crores in his nomination affidavit – filed on March 6 – which was a staggering 23 times more than the value of assets declared by him in October.
He declared his total value of assets as Rs 329.52 crore, which included 273.84 crore in movable assets and Rs 56.62 crore in immovable assets. The asset value submitted by Lokesh to the EC in October 2016 was far less at a mere Rs 14.50 crore, including 2.52 crore in the form of shares in Heritage and a car valued at 93 lakh.
Other than Lokesh, YSRCP president Jaganmohan Reddy is also in the rich list from Andhra Pradesh. He owns assets worth 446 crore. While Jagan's wife Bharati owns assets worth 57.73 crore, their children Harshini and Varsha own assets worth 5.69 lakh and 2.19 lakh respectively.
Jagan Reddy, along with Chhagan Bhujbal and many others is under Enforcement Directorate's scanner, which carried out raids at over 100 locations targeting 500 shell companies across 17 states in the country.