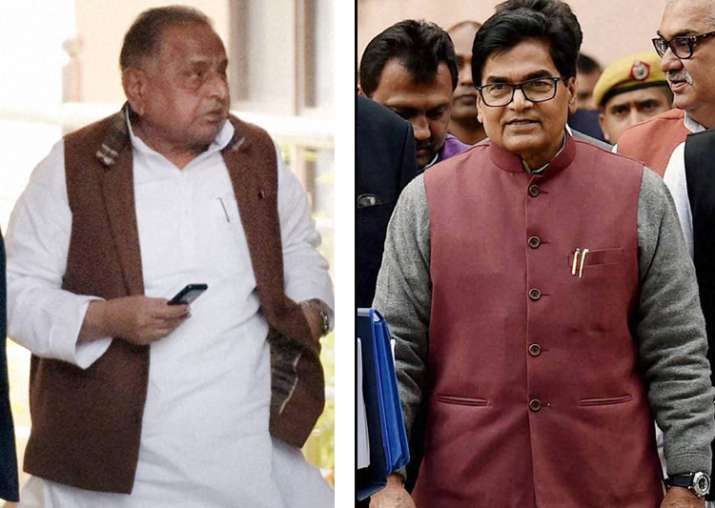 Samajwadi Party patriarch Mulayam Singh Yadav, who is battling his son Akhilesh Yadav for control over the party, today demanded derecognition of Ram Gopal Yadav as leader of the party group in Rajya Sabha following his expulsion from the party. 
Mulayam has written to Rajya Sabha Chairman Hamid Ansari informing him about the expulsion of Akhilesh loyalist Ram Gopal Yadav from the party and, in effect, as its leader in the Upper House. 
Mulayam also urged Ansari to shift Ramgopal's seat to the back benches following his expulsion from the party. As of now, he has been occupying one of the front benches near BSP supremo Mayawati's seat. 
"Chairman Rajya Sabha has received letter from Sh. Mulayam S Yadav, intimating expulsion of Sh. Ramgopal Yadav from SP--will be duly examined," OSD to the Rajya Sabha Chairman Gurdeep Singh Sappal tweeted. 
Sources in the party said the letter informed the Rajya Sabha secretariat that Ramgopal, a cousin of Mulayam, was expelled from the party for six years on 30 December, 2016 and ceases to be leader of SP's Parliamentary Party in the Upper House. 
There is no word as of now on whom Mulayam will appoint as the party's new leader in Rajya Sabha. 
Ram Gopal is close to Akhilesh and leading the fight at the Election Commission to claim party's symbol 'cycle'.
He is seen by Mulayam as the main reason behind the feud in Samajwadi Party and the Yadav clan. 
Earlier today, Mulayam  said that there were no differences between him and his son Akhilesh and that there was "one person" creating problems in the party. 
"There are some who have influenced my son (Akhilesh). I had a talk with him last night and also in the morning with him over the issue. There is no dispute between my son and me. 
"There is only a bit of dispute within the party, not much. Only one person is responsible for this. But that will be resolved soon," he said after a meeting with Election Commission where he claimed the 'cycle' symbol.