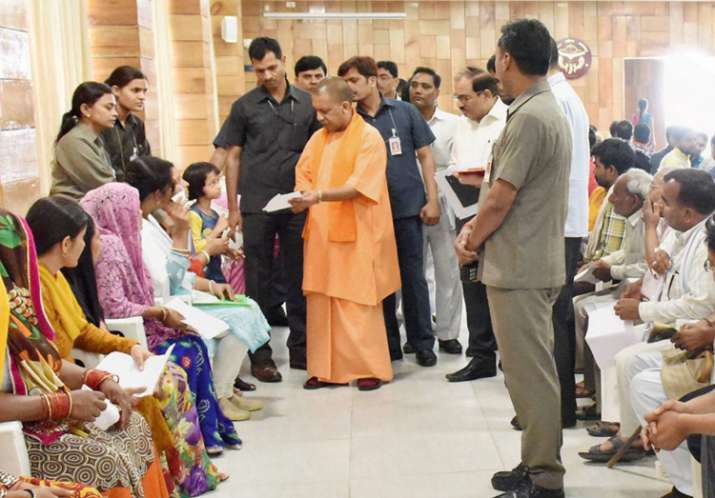 Uttar Pradesh chief minister Yogi Adityanath believes that "misconceptions" have been created about him due to his saffron-clad look and has promised to win hearts of "all sections" by spreading a new idiom of happiness and prosperity.
"Many misconceptions are created about me. Many people say I am saffron-clad, so there are many in the country who are averse to saffron," Adityanath said in an interview to RSS affiliated weekly 'Organiser'.
"We will win hearts of all sections of people with our style of working. We would spread a new idiom of happiness and prosperity," the 44-year-old Adityanath, considered a Hindutva hardliner, said.
The Chief Minister said those who have been "insulting" India's traditions in the name of secularism and appeasement are feeling threatened after he took office.
Noting that for him power was not for fun and frolic, he said, "We are not in politics to run after prestigious positions and posts."
Listing out the priorities of his government, Adityanath said protection of "rashtra" (nation) will be the main "dharma" (religion) of his government. "This is focal point of humanity. In UP we would provide corruption-free administration and rid the society of goonda raj," he said, adding plans have been made and their impact will be visible in the next two months.
A new industrial policy will be in place to check migration of people from the state and it would make sure that 90 per cent of the employees in any industrial unit were from within Uttar Pradesh, he said.
Promising to clear the dues of sugarcane farmers within 14 days, Adityanath announced five-six new sugar mills will be opened in the state over the next six months.
Yogi Adityanath meets Samsung delegation, promises single-window clearance 
Yogi Adityanath today said his government is creating favourable atmosphere to attract as much investment as possible. He said that the government is working towards providing a single-window clearance for investors so all facilities could be provided under one roof. 
He made the comment during a meeting with 5-member delegation of Samsung India Electronics which was led by its president and CEO Hyun Chil Hong.
Yogi said that his government is working towards providing a safe environment to investors and restore law and order soon. He said that all District Magistrates (DMs) and Senior Superintendents of Police (SSPs) have been instructed to take seriously all law and order related complaints by industrialists.
He said that the state government will implement investors-friendly policies so that youth could be provided with employments.
Mr Hong said Samsung intended to make investments in the state and his company was willing to provide all help for the development of the state. 
He said that the company was already manufacturing mobile phone and refrigerator in the state and will create nearly 10,000 employment opportunities in the state by 2020.