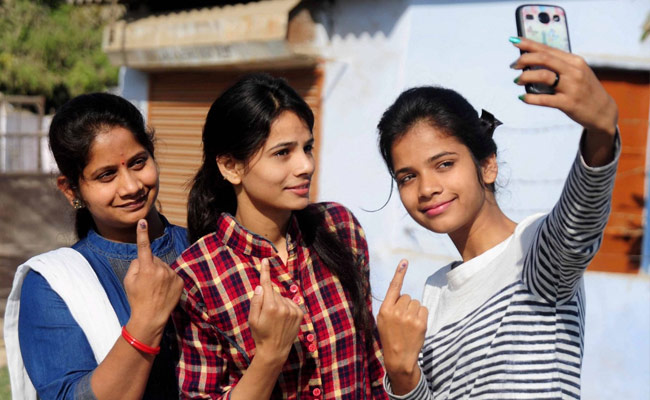 The BJP could be headed for a landslide victory in the Delhi municipal polls with two exit polls predicting the party finishing way ahead of the AAP and the Congress with over 200 of the 270 wards where 54 per cent polling was recorded on Sunday.
1,32,10,206 voters entitled to exercise their franchise in electing councillors for 270 wards falling under the three corporations - NDMC (103), SDMC (104) and East Delhi Municipal Corporation (63). 
The election to two wards has been postponed due to the death of candidates.
Of the three corporations, the EDMC recorded the highest turnout of 55 per cent, followed by the NDMC's 54 per cent and the SDMC's 50 per cent.
"We were targeting a turnout of 60 per cent. We made all efforts to encourage the voters, but the heat seems to have pulled down the numbers. But even 54 per cent is a good turnout," state election commissioner SK Srivastava said.
Exit polls predict BJP win, AAP rout
According to the India Today-Axis exit poll, the Bhartiya Janata Party (BJP) may bag anything between 202 and 220 seats, while the Aam Aadmi Party (AAP) and the Congress will score something around 23-35 and 19-31 respectively.
The CVoter-ABP exit poll claimed the BJP was likely to sweep Delhi with 218 seats, limiting the AAP and the Congress to 24 and 22 seats respectively.
Highlights: 
* 54 per cent voting recorded in MCD elections 2017: Election Commission
* Polling ends in Delhi, 46 pc voting reported till 4 pm
* Around 46 pc votes cast till 4 PM; north Delhi electorate lead the tally
* 40,82,176 votes polled till 3 pm. Voting percentage was 31%
* 25 per cent turnout recorded till 12 pm 
* Delhi State Election Commission reports 7.67% polling till 11am.
* 1.16 per cent voting in Delhi municipal polls till 10:30 am 
Congress's Ajay Maken after casting vote at a polling booth in Rajouri Garden in Delhi #MCDelections2017 pic.twitter.com/6KXP3PeFGy

— ANI (@ANI) April 23, 2017
* People should vote to make Delhi free of dengue and chikungunya, says Kejriwal 
* Delhi chief minister Arvind Kejriwal casts his vote at a Civil Lines polling booth.
Delhi CM Arvind Kejriwal and his family after casting vote at a polling booth in Road Transport Office in Civil Lines #MCDelections2017 pic.twitter.com/J1OcI4LjXc

— ANI (@ANI) April 23, 2017
Union Minister Dr.Harshvardhan after casting his vote in a polling booth in Krishna Nagar's Ratan Devi School #MCDelections2017 pic.twitter.com/KpMhseOkeV

— ANI (@ANI) April 23, 2017
Arvinder Singh Lovely who recently joined BJP returns from polling booth in East Azad Nagar after EVM was not working #MCDelections2017 pic.twitter.com/k9T8gAmw8o

— ANI (@ANI) April 23, 2017
Delhi Lt.Governor Anil Baijal after casting his vote in a polling station in Greater Kailash-3 #MCDelections2017 pic.twitter.com/9QyWVTmyHp

— ANI (@ANI) April 23, 2017
Voting underway in Delhi's Pandav Nagar for #MCDelections2017 pic.twitter.com/f0vL1A4bj6

— ANI (@ANI) April 23, 2017
* Voting for three Delhi Municipal bodies begins
Arvind Kejriwal-led Aam Aadmi Party (AAP) - which had stunned all by bagging 67 seats out of 70 in the 2015 assembly polls – faces the first test of popularity in the capital post the elections. It had recently lost the by-polls to the Rajouri Garden seat which it blamed was due to hostile constituency dynamics. 
The BJP, which is seeking to retain the turf it has held for the last 10 years, has fielded all fresh faces in the contest -- 267 wards. It had expelled it's Narela ward candidate from the party for allegedly allowing sacked AAP minster Sandeep Kumar to campaign for her. 
The Congress, which finished second in the Rajouri Garden bypoll, is hoping for a resurgence and banked on its big guns during campaigns to shore up its fortune, despite unabated infighting. It has fielded 271 candidates. 
The AAP, which suffered a humiliating defeat in the recent bypolls and still smarting under its poor performance in Punjab and Goa polls, has refused to acknowledge the results as a "trailer of MCD polls". 
While the BJP's move to field new candidates was seen as a strategy to counter anti-incumbency, the party claims it was to "give opportunity to the next generation". 
The BJP is betting big on the contest. Addressing booth-level workers during campaigning, party chief Amit Shah had said a favourable verdict in the MCD polls could be a stepping stone to victory in the next Assembly elections in 
the city. 
Yogendra Yadav-led Swaraj India is also in the fray. 
The BSP and the JD(U) have fielded 211 and 95 candidates while the Samajwadi Party has entered the fray with 28. 
The run-up to the polls have also been dominated by allegations of tampered EVMs, made by Kejriwal, a charge rejected by the Election Commission. 
The Generation-1 electronic voting machines (EVMs) are to be used for the MCD elections, which the Commission has described as "foolproof".