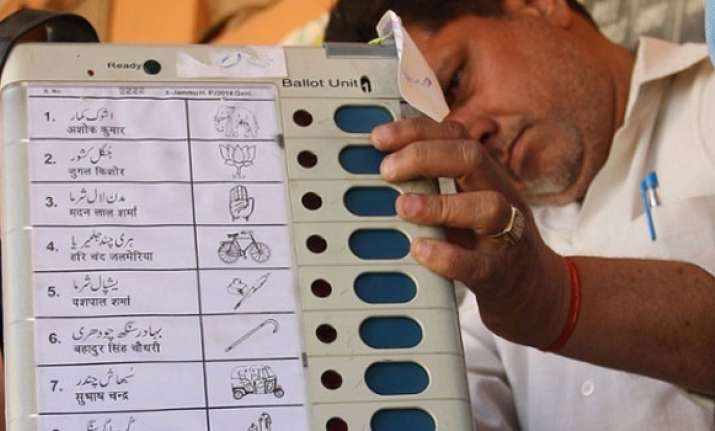 With the counting of votes almost over for the Delhi Municipal Corporation (MCD) elections on Wednesday, we cannot help but recall the controversy surrounding the Electronic Voting Machine that has made constant noise in the Arvind Kejriwal-led AAm Aadmi Party.
Delhi Chief Minister Arvind Kejriwal has raised concerns about the reliability of EVMs alleging that many machines were malfunctioning. He wanted the MCD polls to be conducted via the Voter-Verifiable Paper Audit Trail (VVPAT) but the Delhi High Court had refused.
Now, as the party looks toward defeat in the civic polls in Delhi, here comes a statement from AAP cabinet minister Gopal Rai - something we all have heard before and were expecting: "This kind of a BJP wave in Delhi is only an EVM wave. Nothing else." 
As soon as the trends and the results started coming in, people took to Twitter to joke about AAP and EVM. Sample these:
@harshad1479  Why don't u raise  question on EVM when u win Delhi assembly. Angoor mile nahi to khatte hee hote hai...Hai Na..
@DaddyAdd - Delhi people chose Delhi over London. Dengue over AAP. Life over Wifi and Administration over Dharna.
@pchaudhury - @ArvindKejriwal look for other excuses , #defectiveEvms won't do this time. #MCDElectionResults
@FullyDeepak - 56 Inch chest won over 56 Inch tongue. NOW : Blame EVM, CG, LG & Public??????
@SaumyaMehta94 - A big rejection of negative politics of Arvind Kejriwal! "We aren't defeated by BJP!! EVM defeated us!!" Height of negativity!!
@sarthakbhatt710 - If I WIN =WIN of DEMOCRACY If I LOSE = EVM TAMPERED
@Niladri_R  - Yugpurush @ArvindKejriwal is not losing #DelhiMCDElection2017 , the EVM's are winning it
Meanwhile, Union Minister Nitin Gadkari has taken a dig at the AAP. "Winning and losing is a part of democracy, one must accept mandate of the people with maturity," he said. Congress which is divided into camps - Ajay Maken and Sheila Dikshit - might want to reconsider its future course. With an open war between Maken and Dikshit, MCD polls were being considered to be the litmus test for Ajay Maken.
On the MCD election result day today, Sheila Dikshit remarked on Congress campaign: "We should have aggressively campaigned for the MCD polls, I did not take part in the campaigning as I wasn't asked by anyone."
Senior AAP leader Ashutosh has questioned BJP's success in MCD polls: "Tell me one thing the BJP has done in Delhi. It has ruined the MCD. Still BJP wants to tell the whole world it is winning."