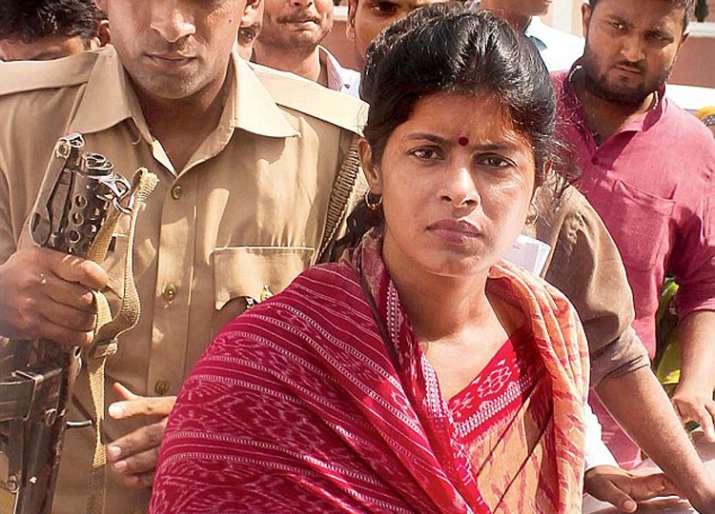 The entry of Swati Singh, wife of expelled BJP leader Dayashankar Singh, has made the Sarojini Nagar Assembly seat of Lucknow a quadrangular battle with two rebels in the fray.  
While the BJP has fielded Swati Singh, who hogged limelight when her husband Dayashankar Singh, then state vice president BJP, had made derogatory remarks against BSP supremo Mayawati and in a tit-for-tat, with the hope that the saffron party will be able to win the seat it has never won.  
As the UP BJP women's wing chief, Swati has presented herself as a strong woman face.  
With Swati jumping in the fray, the fight has become interesting with rebels of Bhartiya Janata Party (BJP) and Samajwadi Party also testing their popularity.  
While the SP has given a ticket to Anurag Yadav, cousin of Chief Minister Akhilesh Yadav; sitting SP MLA and minister Sharda Pratap Shukla is contesting as a rebel and is out to queer Anurag's pitch.  
BJP rebel Rudra Daman Singh alias Babloo is also in the fray. After being denied ticket, he is contesting as Shiv Sena candidate. 
Babloo was runners up on the seat in 2012 polls and secured 41,333 votes, much more than BJP candidate Virendra Tiwari, who got only 29,339 votes and finished third.  
On her campaign trail, Swati vows to fight for 'samman' (honour) of women as she did for her own daughter after derogatory remarks were made against her daughter and mother-in-law during a BSP protest last year. 
"I wanted to contest against BSP supremo Mayawati, who talks of honour of women but did nothing when her workers made remarks against my little daughter. As she is not contesting, my party has given me ticket from this seat and I am working hard," Swati told PTI. 
About the seat, where BJP never won, and has been held by SP and BSP candidates during the past decades, a confident Swati said she was working hard and hoped to script a new history by winning the seat. 
On her taking a plunge in politics after her husband was expelled from the party, Swati said, "I was active Akhil Bhartiya Vidyarti Parishad (ABVP) member and nothing unprecedented has happened. Party has trusted me and given me a responsibility and I will ensure victory."
Her husband Dayashankar was expelled by his party in July last over use of certain derogatory words against Mayawati. 
His remarks had triggered a nation-wide outrage. This time he is working hard for his wife's victory. 
Anurag, who is brother of SP MP Dharmendra Yadav, is banking on "kaam bolta hai" slogan and trying to make his presence felt. 
Shukla, on the other hand, is not new in the battle of ballots and is appealing to voters on the basis of his performance as their representative, claiming he has done "a lot for the constituency". 
BSP has fielded Shiv Shankar Singh aka Shankari Singh who was outshined by Shukla in the last election. 
Polling in this constituency will be held in the third phase on February 19.