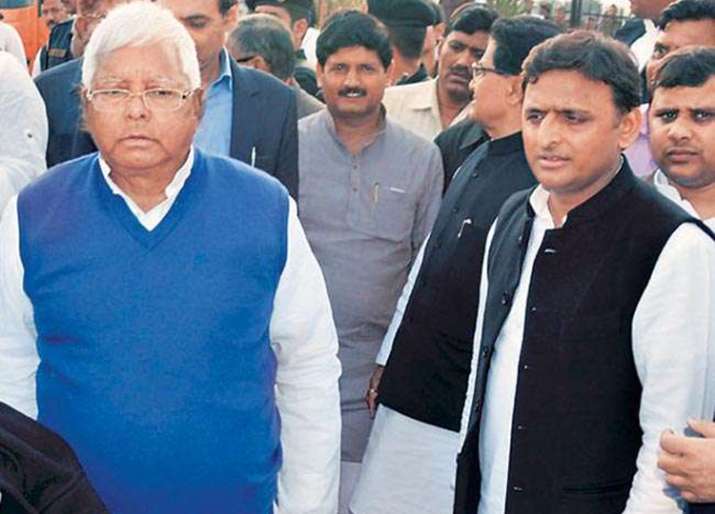 As Uttar Pradesh Chief Minister Akhilesh Yadav continues to fight his father for control over Samajwadi Party, efforts to reconcile the duo are being attempted from different quarters.  
Among those who have tried to assuage the family-cum-party feud is Rashtriya Janata Dal (RJD) chief Lalu Prasad Yadav, who on Monday night called Akhilesh to persuade him to reinstate Mulayam as SP's national president.  
However, Akhilesh politely refused the proposal and told Lalu that he will happily do so but only after the elections. 
Akhilesh Yadav, who was declared Samajwadi Party's national president at a national convention on January 1, with the support of senior party leaders including his uncle Ram Gopal Yadav, reportedly told Lalu last night that after the Assembly elections in UP conclude, he will restore his father to the position of national president "with honour."  
Akhilesh believes that the decisions taken by his father are influenced by aides Shivpal Yadav and Amar Singh and if he is allowed to take charge as national president, both will take hold over ticket distribution and organisation.  
Akhilesh's rebellion against his father veers around a demand that Shivpal and Amar Singh be removed from decision making. The Chief Minister accuses them of instigating Mulayam against him. Mulayam, however, has so far not indicated that he could meet his son's demand on his two close aides.  
Lalu Yadav, who is related to Mulayam as one of his daughters is married to the grand-nephew of the SP founder, has warned that any split in the party will help the rival Bhartiya Janata Party in the 2017 UP Assembly elections.  
He has been trying to reconcile the father-son duo since the party feud came to the fore.   
In a sign of reconciliation, Akhilesh today met his father against the backdrop of the SP patriarch yesterday declaring his son as the chief ministerial candidate of the party. 
The 90-minute one-to-one meeting at Mulayam's residence sent signals of a rapprochement between the bickering factions in the ruling party. 
Neither Shivpal nor Amar Singh were present at today's father-son meeting.  
Mulayam had last night declared that "Akhilesh will be the Chief Minister after the election, there is no confusion about it."  
The last such meeting between father and son last week had failed to end the impasse in the party which saw a vertical split as Akhilesh was anointed SP chief in place of Mulayam.