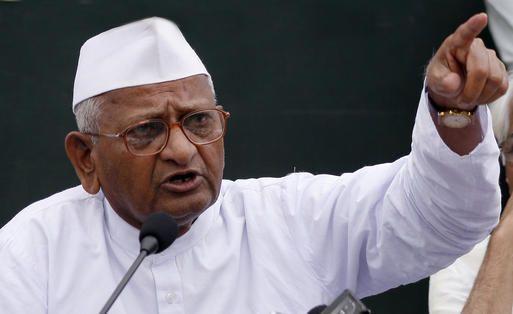 Veteran social activist and anti-corruption crusader Anna Hazare today said that he was pained to read about the allegations levelled against Delhi Chief Minister Arvind Kejriwal in the Shunglu Committee report, adding that his former ally has forgotten all principles in his pursuit of power.
"He was my colleague in the fight against corruption... At that time, I felt the educated new generation could help rid the country of graft. But it was a big dream -- and my dream lies shattered," Hazare said on an anguished note.
Hazare said that when CM Kejriwal launched the Aam Aadmi Party, it was the Lord who gave him wisdom to keep away from Mr Kejriwal or even "my reputation would be ruined".
"Since then, and even after he became the Chief Minister, I never felt a desire to meet him. Now, I understand why he always used to address me as his 'Guru'. The Lord has saved me," the 79-year-old said in a statement from his village Ralegan-Siddhi in Ahmednagar district of Maharashtra.
Hazare said during the days when Kejriwal was with him, he always told him that a leader must maintain purity of though and action, lead an unblemished life and make sacrifices for the betterment of the country and society. 
"But the Shunglu committee report shows that Kejriwal has forgotten everything in the pursuit of power", he said.
The Shunglu Committee formed by former Lt Governor Najeeb Jung to look into decisions taken by the government, has accused it of overlooking the rules to favour close ones by appointing them at key positions.
In its 100-page report, the committee, headed by former Comptroller and Auditor General (CAG) VK Shunglu, after reviewing 404 files of the government, pointed out 'gross abuse of power' by the Kejriwal government. 
It said that several irregularities were found with various appointments including the selection of Health Minister Satyendar Jain's daughter Soumya Jain in Mohalla Clinic project.
The other accusations levelled against the AAP government in Delhi include land allotment for the party office keeping rules in abeyance and allotment of government accommodation to DCW chief Swati Maliwal.