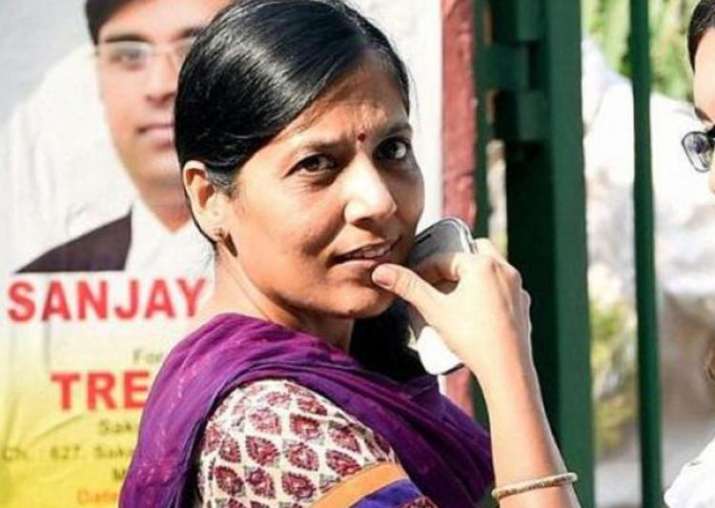 Delhi Chief Minister Arvind Kejriwal's wife Sunita Kejriwal today came down heavily on suspended AAP leader Kapil Mishra and warned that he will face consequences of levelling false allegations against her husband. 
"Law of nature never errs, seeds of betrayal, false allegations sown, so shall he (Kapil Mishra) reap. Inevitable," she tweeted.
Law of Nature never errs. Seeds of विश्वासघात, झूठे आरोप sown, so shall he @KapilMishraAAP reap.Inevitable.

— Sunita Kejriwal (@KejriwalSunita) May 15, 2017
Her remarks came a day after Mishra accused the Aam Aadmi Party of lying to the Election Commission (EC) about donations and laundering money through shell companies, before he fainted midway through a presser and was hospitalised.
Mishra had on Sunday alleged that the party concealed around Rs 36 crore from the party workers and the government. 
The AAP dismissed the charges as a "conspiracy" by the BJP and said the latter was shooting from the sacked minister's shoulder.
The sacked Water Minister has been on an indefinite hunger strike since May 10, at his official residence here, demanding that the Delhi Chief Minister must reveal the source of funding of the foreign trips of five AAP leaders -- Sanjay Singh, Ashish Khetan, Raghav Chadhha, Satyendra Jain and Durgesh Pathak -- in the last two years.
A day after Mishra was sacked on May 7, he alleged Kejriwal of taking Rs 2 crore bribe from Delhi's Health Minister Satyendar Jain.
Mishra was suspended from the party on May 8.
(With IANS inputs)