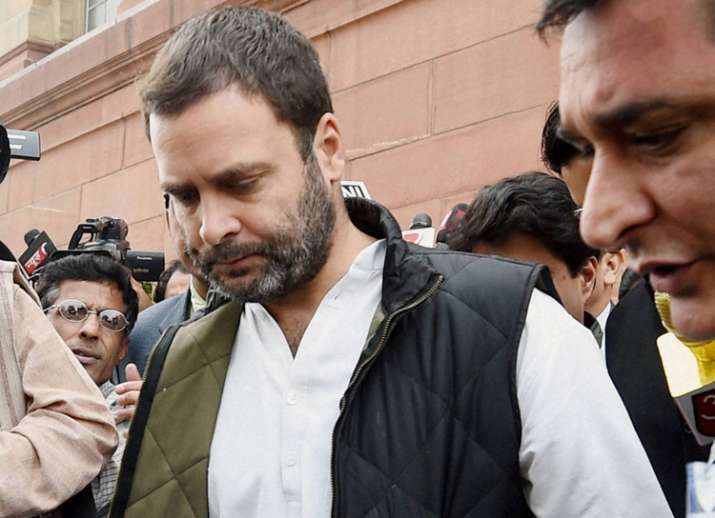 The Ministry of Electronics and IT has started a probe into the hacking of Congress vice president Rahul Gandhi's official Twitter account. 
"We are probing the incident (hacking of Gandhi's account)," a ministry official said in response to a PTI query. 
IT Minister Ravi Shankar Prasad said the matter is being taken very "seriously" and prompt action has been taken. "We are seeking the details of all those who logged in that twitter account in the last one week to probe it further."
Gandhi's official account on social media site Twitter was hacked on Wednesday night and again this morning. Miscreants posted some expletives-laden tweets, which were later deleted. 
The name of the verified Twitter handle "@OfficeOfRG" was also changed. 
The Congress party's official Twitter account too was compromised earlier today. 
MEITY's cyber security arm Indian Computer Emergency Response Team (CERT-In) will investigate the matter. CERT-In has authority to collect information stored or communication carried out by any computer in the country for the purpose of cyber security. 
"As far twitter account of Rahul Gandhi is concerned, when it came to my notice, I took it very seriously. Twitter representative of India was contacted and all offending tweets were removed," Prasad said. 
Allaying fears about the cyber security system, Prasad said, "I want to assure the country that our cyber security mechanism is fine. We are taking all steps to further reinforce it. When this kind of thing take place we take prompt measures." 
"We also came to know that Congress has lodged an FIR in the case. Whatever is possible on our part, we will cooperate with Delhi Police IT cell for this," he added. 
Minister of State for Information and Broadcasting Rajyavardhan Rathore said nobody from the government or BJP is involved in the hacking incident. 
Sources at Twitter said there was no security breach at their end, but the accounts may have been compromised through breach of e-mail. 
They added that the company was contacted by Congress in the matter but it is yet to receive any communication from the government. 
The Congress party has filed a complaint with the Cyber Cell of Delhi Police which has initiated a probe into the hacking. 
The Delhi police have written to the management of the microblogging site seeking necessary details. A case has been registered in the Economic Offences wing under Section 66 of IT Act. 
"A case has been registered by the Economic Offences Wing (EOW) under Section 66 of the IT Act. Twitter has been asked to provide details of log of the account for investigation purpose," said Dependra Pathak, Delhi Police spokesman and Joint Commissioner (Southwest). 
Lt Governor of Delhi Najeeb Jung has also been briefed by the police regarding action being taken in this matter, said a senior officer. 
Police said they were trying to locate the suspect by tracking the IP address used to break into the official account of the Congress leader. 
Blaming "fascist" forces for the hacking, Congress chief spokesperson Randeep Surjewala said it reflects the extremities of an intolerant culture that resorts to abuse when cornered and claimed the party has fought such "hatred and animosity" with Gandhian compassion and tolerance. 
He also said this exposes cyber security network in India and its weaknesses. 
"Hacking of @OfficeofRG proves lack of digital safety around each one of us. Every digital info can be accessed, altered, morphed and modified," tweeted. 
He said, "Cyber attacks on @INCIndia and @OfficeOfRG exposes the vulnerability of cyber security and Digital platforms in India. An eye opener for Modiji!." 
Surjewala said he has filed a complaint on behalf of Congress to Delhi police and said the onus is on Modi government to ensure digital security and punish the guilty. 
"Free speech and right to disagree in India is under attack by licensed trolls. Such despotic and vulgar attempts reflect the extremities of an intolerant culture that resorts to abuse when cornered and left answer less," he said. 
"Indian National Congress has fought such hatred and animosity with Gandhian compassion and tolerance. 'Sabko sanmati de bhagwaan' (May God give better sense to all)," Surjewala said on Twitter. 
Earlier, Rahul tweeted, "To every one of you haters out there. I love all of you. You're beautiful. Your hatred just doesn't let you see it yet." 
Congress later tweeted, "Hello everyone! We are back. The tweets in the morning lacked wit, evidently. Anyway, Mr Modi, back to people's questions, care to answer?." 
Congress President Sonia Gandhi's political secretary Ahmed Patel tweeted, "Those forcing country to adopt online payment overnight, have they taken steps to ensure a/c of ordinary people will be immune from hacking?"
"Those forcing country to adopt online payment overnight, have they taken steps to ensure a/c of ordinary ppl will be immune from hacking?," he also said. 
Congress MP Deepender Hooda said the hacking incident only exposes the perils of the digital world and the cyber security that is existing in our country. 
Taking potshots at the Modi government's Digital India campaign, he said, "It also exposes the hollowness of the digital India. There is a question mark on the whole push going towards digital as your server is not safe." 
Surjewala, in his complaint today, told the police about the hacking of the verified twitter account of Indian National Congress i.e. @INCIndia (twitter.com/IncIndia) as also the website i.e. www.inc.in and consequent email account of Indian National Congress i.e. outreach@inc.in. 
"We would like to bring to your attention that approximately between 9.30 AM and 10.00 AM in the morning of Dec. 01, 2016; twitter account, website and email account mentioned aforesaid were hacked, compromised, illegally accessed, interfered with and manipulated," he said. 
"Ilk of BJP MP's & central committee members should stop rumour mongering to protect hackers & divert attention.Pl worry about Digital safety, (sic)" he tweeted.