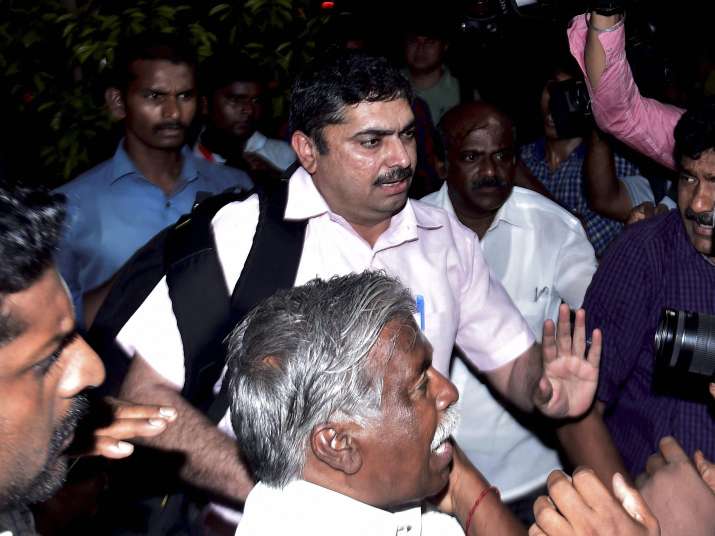 Trouble seems to be mounting for beleaguered AIADMK (Amma) Deputy General Secretary and Sasikala's nephew TTV Dinakaram with the Delhi Police on Wednesday night serving him summons at his Chennai residence over his alleged attempt to bribe Election Commission officials in a case related to the party's frozen poll symbol.
The Delhi Police is learnt to have served the summons on Dinakaran late on Wednesday night and asked him to appear in person on Friday in Delhi.
There was high drama witnessed late on Wednesday night when a Dinakaran supporter attempted to immolate himself when the police arrived to serve the summons.
The Delhi Police has booked Dinakaran for allegedly attempting to bribe Election Commission officials through a middleman Sukesh Chandrasekar to get a favourable verdict in the party's 'two leaves' symbol case.
Earlier in the day, the Crime Branch of Delhi Police had issued a lookout notice against him in the alleged bribery case. 
The developments indicate that Dinakaran may be arrested soon. There were also reports that he might try to flee the country, following which all airports, sea ports have been alerted with Dinakaran's details.
Investigations have revealed that Dinakaran had allegedly struck a deal for Rs 50 crore for helping the AIADMK faction keep the 'two leaves' symbol, said an officer privy to the probe.
Till now, the middleman had allegedly been paid Rs 10 crore of the deal amount and the remaining amount was to be given to him in a time-bound manner.
He had allegedly received money through some Chandni Chowk-based hawala operators and police is probing the hawala link. On Tuesday, Sukesh was taken to Chandni Chowk by Crime Branch officers to identify the hawala operators.
Meanwhile, virtually paving the way for a merger between the two warring factions of the AIADMK, the party announced that Sasikala, Dinakaran and his family will be kept away from the party affairs as well as from the Tamil Nadu government. The decision was taken by the cabinet of Chief Minister E K Palaniswami.
The poll body has frozen the AIADMK's two leaves symbol with two factions -- one led by party General Secretary V.K. Sasikala and the other by former Chief Minister O. Panneerselvam -- claiming it as their own.