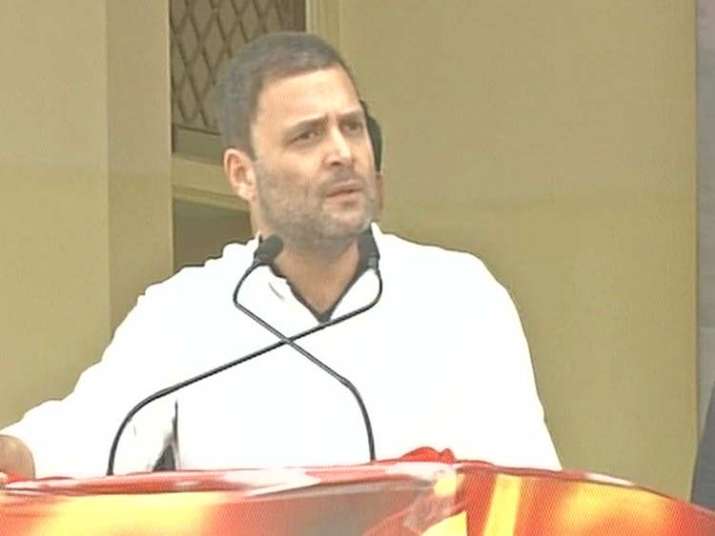 Taking potshots at Prime Minister Narendra Modi for replacing Mahatma Gandhi on the Khadi and Village Industries Commission (KVIC) calendar and table diary, Congress vice-president Rahul Gandhi today said even Lord Ram would now come wearing a Modi mask in Ramleela. 
"Modi has removed the picture of the man who took three bullets on his chest for Tricolour," Rahul said while addressing party workers in poll-bound Uttarakhand.  
"Charkha is blood and sweat of poor. On one hand Modi takes pictures with charkha, on the other hand he works for 50 industrialists throughout the day," the Congress leader said in Rishikesh.  
In what came as a shock for many, Mahatma Gandhi's picture weaving khadi on a simple charkha wearing his trademark cloth has been replaced by Prime Minister's picture in the same classic pose as that of the former.  
Employees and officials of KVIC have opposed the move to exclude the image of Mahatma Gandhi from the cover of calendar and diary that show Modi weaving khadi on a large charkha. 
Launching an attack on the the Rashtriya Swayamsevak Sangh (RSS)) Rahul said the ideological mentor of ruling BJP did not hoist tricolour in at its Nagpur headquarters for 52 years after independence and instead hoisted saffron flag.  
On demonetisation issue, Rahul said the government led by Congress party built and strengthened institutions like Reserve Bank of India (RBI) so that there is a body which is not under govt's pressure as it takes economic decisions but PM "murdered the soul of this institution in a minute."
He challenged Modi to take a "decision on OROP in a minute just like it was done for demonetisation.