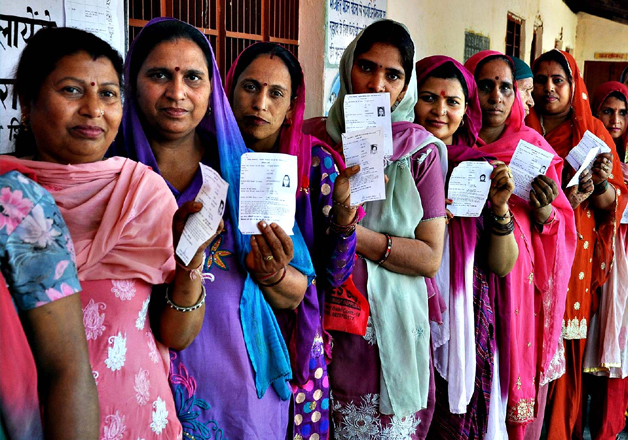 The Election Commission of India on Wednesday announced the dates and phases of elections for five states -- Uttar Pradesh, Punjab, Uttarakhand, Manipur and Goa.
While voting in Punjab, Goa and Uttarakhand will take place in a single phase, Manipur will have two phases of voting and Uttar Pradesh will have seven phases of voting. Counting of votes for all states will take place on March 11.
Announcing the schedule, Chief Election Commissioner Nasim Zaidi said that adequate security forces will be deployed in advance.
Zaidi informed that about 160 million (16 crore) voters will participate in the elections across five states. Nearly all voters have voter ID cards.
The EC has also limit expenses of candidates. While in UP, Punjab and Uttarakhand the limit is Rs 28 lakh, for Manipur and Goa it is Rs 20 lakh.
Zaidi further announced a series of initiatives that will be launched this time. Here are the major announcements:
This time, the EC will be distributing Colour voter guides along with photo voter slips with improved format and design among all families. The guide will contain information about polling station, date and time of polling, identification documents required, and dos and don'ts for the voters.
Separately, four posters containing voting procedures and dos and don'ts will be displayed at all 1.85 lakh polling stations.
The height of voting compartment has been raised by 30 inches to maintain privacy.
Voter assistance booths manned by commission officials will be set up at all polling stations to help/guide voters.
The commission has carried out a mapping of polling stations vis-a-vis disabled people. Need-based facilities will be available at specific polling booths.
In some constituencies, the Commission has directed officials to provide separate polling stations for women. All women-managed polling stations will also be set up this time.
For the first time, the Commission will introduce the voter verifiable machine. This will be attached to the EVMs only in Goa. The machine will assure a voter that her ballot has been cast to the candidate of her choice.
In a first, the electronic voting machine, besides name, will display the photo of the candidate.
The Commission has made arrangements to allow defence personnel to exercise their franchise from the place of their posting. The EC has announced that such personnel will be able to cast their votes through electronic transmission.
The Commission has said that it will strictly implement the SC's ruling on religion, caste in the polls. It has also put a cap on cash payments by candidates. Candidates must use cheques for making payments above Rs 20,000. Also donations and loans greater than Rs 20,000 will have to be done by way of cheque or draft.