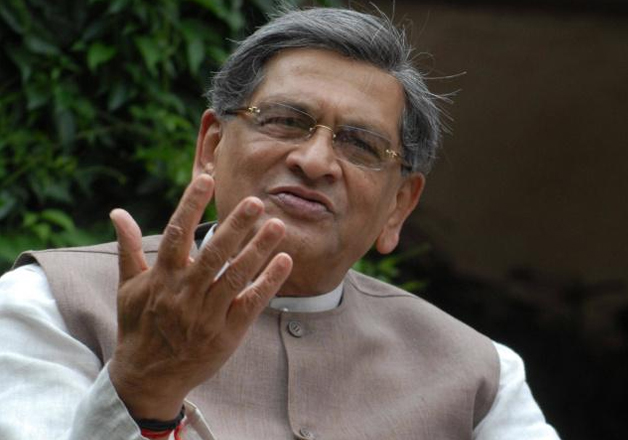 Former Congress leader and Chief Minister of Karnataka SM Krishna is set to join the Bharatiya Janata Party (BJP) this week.
According to reports, the 24-year-old leader will soon meet BJP chief Amit Shah in New Delhi and then formally join the saffron party.
"Krishna will join our party in New Delhi on March 15 or 16 after meeting party's national President Amit Shah. He will also call on Prime Minister Narendra Modi later," a BJP official said here on Monday.
Krishna, who had resigned from the Congress on January 29 after 46 years of association with the grand old party for 'being sidelined by its leadership'.
"Krishna will leave for Delhi on Tuesday and meet Shah on Wednesday. He will join the same day (March 15). If not on that day, then he will join on March 16 at 11:20 a.m.," the official said.
BJP's state unit president and Lok Sabha lawmaker BS Yeddyurappa also told reporters at Mysuru earlier in the day that Krishna will join the party on March 15 in New Delhi.
"As the budget session of Parliament will resume from Tuesday, I will also be in Delhi to personally welcome Krishna into the party fold," BSY said.
Union Ministers from Karnataka DV Sadananda Gowda and Anantha Kumar will also be present on the occasion.
A Krishna's aide also confirmed that the octogenarian leader would leave for Delhi on Tuesday to meet Shah and Modi on Wednesday or Thursday.
Ever since leaving the Congress, Krishna has been bidding time to join the BJP but was told to wait till this week, as Shah and Modi were busy with the elections in the five states, especially Uttar Pradesh and their results.
Yeddyurappa officially invited Krishna to join the party at the latter's house here last week (March 6).
"With the BJP securing thumping majority in Uttar Pradesh and Uttarkhand and set to form governments in Goa and Manipur, Krishna thought it is the right time to join the BJP and strengthen the party in Karnataka, where assembly election is due in April 2018," added the official.