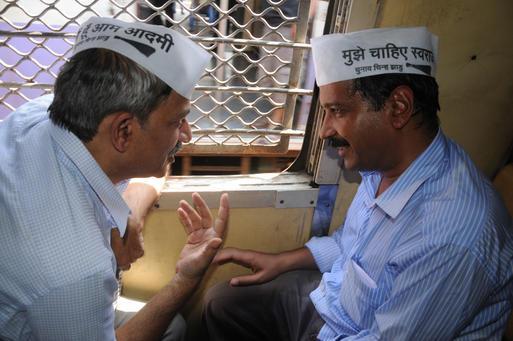 In a "personal message" to Aam Aadmi Party (AAP) national convenor Arvind Kejriwal, his former aide Mayank Gandhi has slammed the Delhi Chief Minister "who wanted to manipulate that support to fuel his ambition to become a PM in 2019."
The open letter, titled "Strong personal message to Kejriwal from an old friend", the former AAP leader said, "A defeat deals a body blow to arrogance and makes the mind ready to reflect. So, the timing is appropriate."
The letter comes on a day when the AAP, which swept the Delhi Assembly elections by winning 67 out of 70 seats barely two years ago, has been routed in the MCD polls, results of which were declared today. 
"I am addressing you as your former friend and colleague who believes that AAP can still be salvaged and become the party for alternative politics. I am reaching out to you because my agony is not just mine; but of lakhs of volunteers, donors and supporters," Gandhi said in his blog. 
Referring to the historic win of AAP in 2015, Gandhi said the party chief made the "classic mistake" and "took the complete credit and felt that the support of the nation was for Arvind Kejriwal, the person"
"Arvind, the unselfish hero who would never compromise, was dead. In his place was a politician who wanted to manipulate that support to fuel his ambition to become a PM in 2019," Gandhi wrote. 
"We have out beaten other parties with our arrogance and internal politicking," he said.
"You took complete power by becoming convener as well as CM of Delhi. How much more power do you want before you start delivering alternative politics?," the former AAP leader asked Kejriwal in the letter which he posted on his blog.
"In your pursuit for power, you have betrayed my beloved nation. You have messed up the life of millions who followed you. They gave you complete power –made you convener and CM. 
"Delhi gave you 67 seats just two years back. What more do you want? I do not know whether you know the reality or are living in denial - but are a very unpopular man in the country. If you do more drama, then it is going to get worse and we cannot afford that," he further wrote. 
"Abandon the agenda of wanting to be another BJP and Cong. We had come to fight them not become another version of them," Gandhi said.
He further said, "We still need to fight against caste and communal politics. The parties that use these tools are still around. Our AAP was formed to fight that. But, for that, AAP needs to transform.