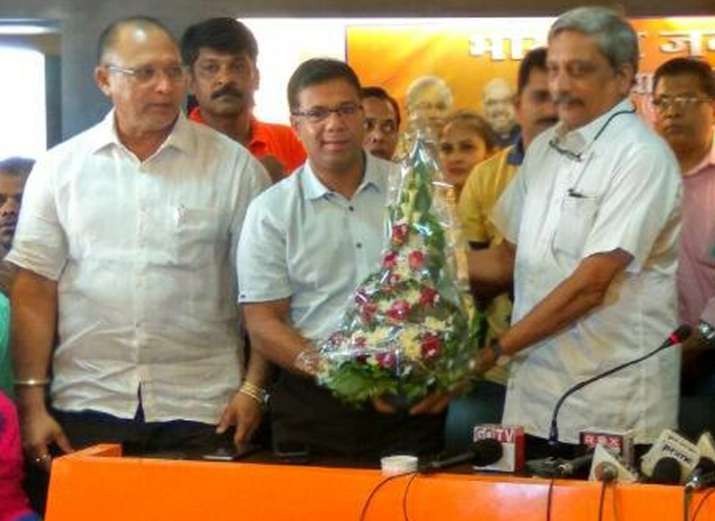 Former Goa Congress MLA Vishwajit Rane, who resigned from the party and the Assembly after refusing to vote against the trust motion of Chief Minister Manohar Parrikar last month, joined the Bhartiya Janata Party (BJP) today. 
His entry into the saffron party clears the way for Parrikar, who needs to become a member of the Assembly within six months, to contest from Valpoi constituency vacated after Rane's resignation. 
Rane had resigned from the Congress and quit his Assembly membership after absenting himself from the House when Parrikar sought the trust vote. 
As the BJP has only 13 MLAs in 40-member Goa Assembly, it is highly unlikely that the party would ask any of them to vacate the seat for Parrikar and it is but inevitable that he would now contest from Valpoi.
The BJP Goa legislature wing recently adopted a resolution seeking Rane's induction into the party and also in the Cabinet. 
However, the BJP has stated that Rane's entry into the part is without any condition. 
"Vishwajit Rane would be joining BJP tomorrow. He has not put any condition to join the party," BJP's state president Vinay Tendulkar had told PTI yesterday. 
Rane is the son of Congress veteran and former Chief Minister Pratapsinh Rane, who was also elected to the Assembly from Poriem seat in North Goa during the recent state polls. 
Asked if Rane would be inducted into the state Cabinet, Tendulkar said, "It would be the decision of the Chief Minister."
When contacted, Rane had yesterday said he would be joining the BJP on Thursday.
"My entry in BJP is unconditional. I want to work for the growth of the party and also for the development of my constituency," he said.
Rane had quit the Congress last month after being upset that the party failed to form the government in Goa despite it winning 17 seats in the 40-member Assembly.
Congress General Secretary Digvijay Singh had alleged that Rane had met Parrikar at a hotel in Goa before the trust vote. He had asked Rane to explain "what he was doing." 
"Rane should explain what he was doing with Parrikar in a hotel," Singh said. 
Rane, however, denied meeting Parrikar.