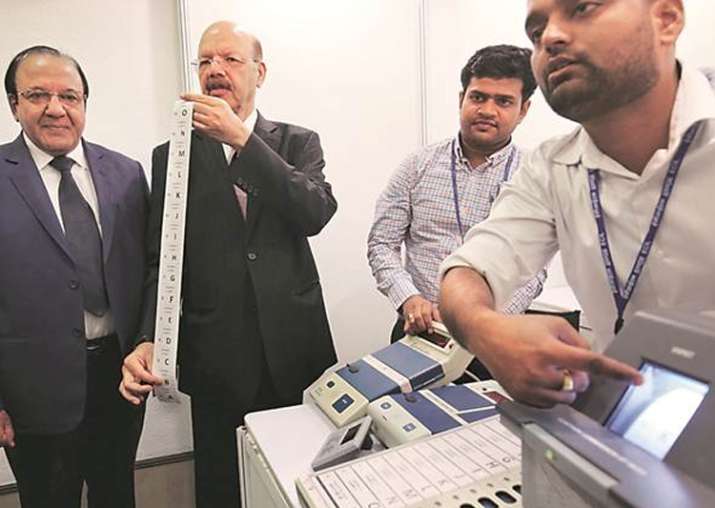 The Election Commission (EC) today rejected Aam Aadmi Party's (AAP) charge that it was running away from its 'promise' of organising a 'no-holds-barred hackathon', a day after the poll body turned down Arvind Kejriwal-led party's demand to allow it to tamper with the motherboard of the EVMs.
In a statement issued here, the EC said that it had never made a 'promise' to hold a 'no-holds-barred hackathon' when it had announced the EVM hacking challenge.
"About a 'promised no-holds-barred hackathon', it's clarified that no such 'promise' was ever made or announced by the Commission," it said. 
The EC said that political parties taking part in the challenge must adhere to the guidelines laid down by the poll body.
"EVM Challenge will be conducted within framework of existing administrative safeguards and security protocols," the EC reiterated.
The AAP has objected to the 'rules and regulations' imposed by the EC for the June 3 event. The party demanded that its representative be allowed to tamper with the EVM motherboard at the challenge.
So far, Sharad Pawar's Nationalist Congress Party (NCP) has shown interest in taking part in the EVM hacking challenge, to be organised by the poll panel on June 3.
According to a Commission spokesperson, the challenge, announced by the poll body to counter allegations of EVM tampering levelled by parties such as AAP and BSP, will be held on June 3 between 10 am and 2pm. 
He said a total of eight parties had responded to EC's letter of invitation for the June 3 event. 
"NCP expressed interest in participating in the EVM challenge. AAP and Congress raised some issue as per the existing framework of challenge but have not expressed their interest in participating. The CPI, CPI(M), BJP and RLD expressed their interest to observe (the challenge)," the spokesperson told PTI.
On Saturday last, the Commission had announced that the challenge to hack and tamper with the EVMs would take place on June 3 and the seven recognised national and 49 state parties can apply to participate in the challenge. 
After the Uttar Pradesh assembly polls, the BSP and AAP had questioned the reliability of the machines. Later, several opposition parties, except the AAP, had urged the EC to revert to paper ballot, saying the faith of the people in EVMs has eroded.