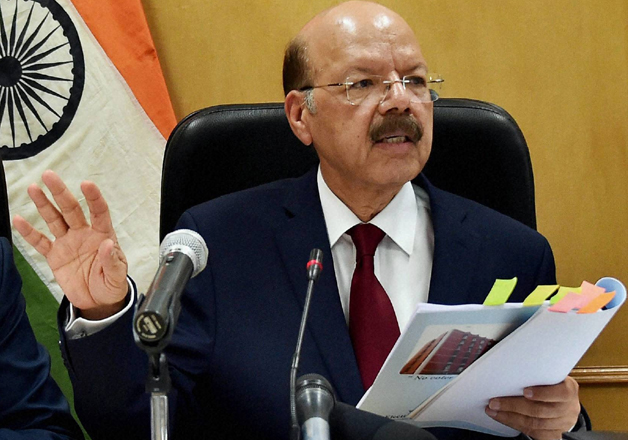 The Election Commission of India today said that it will strictly implement the Supreme Court ruling that seeking votes in the name of caste, creed, religion, community and language is illegal.
"Commission is committed to abide by the apex court order. The order of the Supreme Court will be implemented effectively," Chief Election Commissioner Nasim Zaidi said.
A Constitution bench headed by the then Chief Justice of India TS Thakur had ruled that seeking votes on the basis of religion, race, caste or language of a candidate or his rival or even that of the voters is illegal and could jeopardise the electoral process.
The apex court's decision was termed as "historic and bold" by all the political parties.
The Election Commission has also set the campaign expenses limit per candidate at between Rs 20 lakh and Rs 28 lakh in the five states (Uttar Pradesh, Uttarakhand, Punjab, Goa and Manipur) where assembly polls will be held later this year.
Announcing the limit, Zaidi said, "In Goa and Manipur the limit on election expenses per candidate is Rs 20 lakh. In Punjab, Uttar Pradesh and Uttarakhand the election expenses limit per candidate is Rs 28 lakh."
This time again the Election Commission has made provisions to allow the defence personnel posted away from their homes to exercise their franchise, Zaidi said.
He said that defence personnel will be allowed to cast their votes through one-way electronic transmission in the upcoming state polls.
"We have decided to allow the defence personnel and central para-military forces personnel to cast their votes through one-way electronic transmission system," Chief Election Commissioner told reporters here before announcing the dates of the assembly polls in five states in 2017.
The EC had first experimented the initiative in Puducherry in August last year.
Uttar Pradesh, the biggest state in the country, will go to polls in seven phases for 403 seats on February 11, February 15, February 19, February 23, February  27, March 4 and March 8.
Manipur will go to polls for 60 seats in two phases on March 4 and 8. There will be single phase elections in Uttarakhand, Goa and Punjab. Goa and Punjab will go to polls on February 4 while polling in Uttarakhand for 70 seats will be held on February 15. Counting of votes for all five states will take place on March 11.