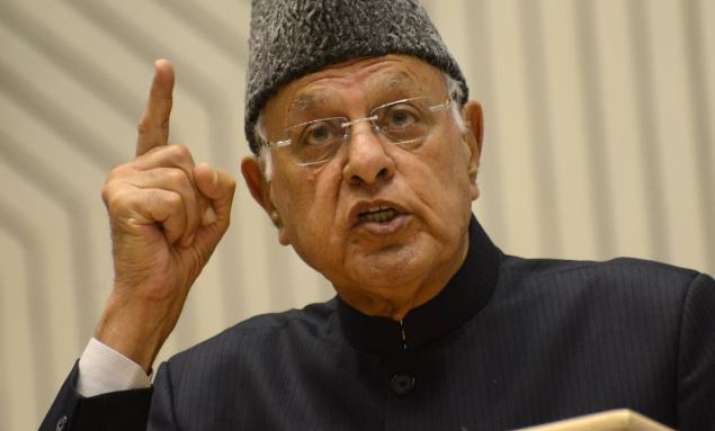 Former Jammu and Kashmir Chief Minister Farroq Abdullah on Sunday said  that though economic development and infrastructural growth was essential for the state, things would not improve in the Kashmir Valley unless the central  government takes a political initiative to resolve the long-standing issue. 

 

The National Conference president further said that it would be wrong to brush the political issue in Kashmir under the carpet by portraying the Chenani-Nashri tunnel as an alternative to a political initiative.
"While economic development and infrastructural growth is essential, the state would continue to suffer unless New Delhi takes a political initiative to resolve the longstanding political issue in consonance with the sentiments of the people," Abdullah said here on a day when Prime Minister Narendra Modi inaugurated the country's longest tunnel in the Jammu region.
Abdullah was speaking in the interior areas of Dal Lake and Hazratbal assembly segments as part of his election campaign for by-polls to Srinagar Lok Sabha constituency which votes on April 9.
Former J&K chief minister Abdullah said the NC has always maintained that economic packages and infrastructural projects cannot be alternatives to dialogue between India and Pakistan and New Delhi and the stakeholders in Kashmir.
"Unfortunately, the current dispensation in the state has bartered its voice to remain in power and is watching as a mute spectator as its ally in New Delhi is creating a political vacuum in Kashmir that could have unimaginable consequences in the future," he said.
The National Conference president said the recent spree of civilian deaths and use of lethal force on protesters was an alarming and saddening trend that contradicted the promises and rhetoric of PDP before it came to power.
"The repercussions of this dangerous policy are for everyone to see. Unfortunately, the PDP-BJP alliance has chosen to not learn any lessons from the past and continues to alienate the youth of the Valley through this confrontational and insensitive approach," he said.
"Kashmiri Muslims, Sikhs and Pandits have always lived and worked together as one united family under the banner of 'Kashmiriyat' and we will continue to nurture this rich legacy. NC won't allow any political forces to launch an assault on our social fabric and ethos of amity," he said.
(With PTI inputs)