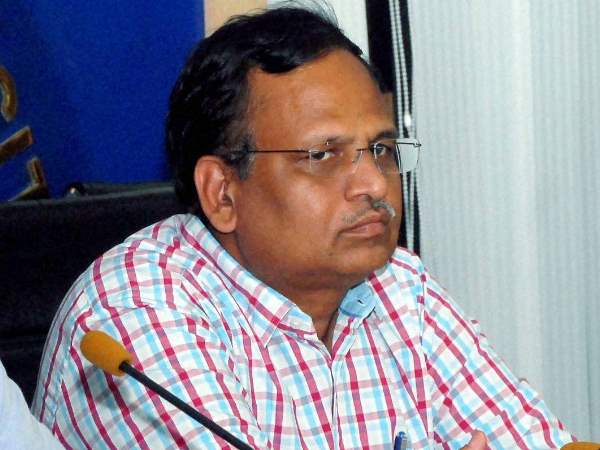 Troubles seem to be mounting for Delhi Health Minister Satyendra Jain who could soon find himself in the net of the amended 'Benami property' law recently introduced by the Centre. 
The Income Tax Department is set to register a case against Jain and has claimed that there is enough proof to establish his direct involvement in buying over 200 acres of 'benami property' across Delhi NCR through illicit Hawala transactions. 
It has also been reported that Jain concealed information on these properties from the Election Commission. 
The Centre brought amendments in The Prohibition of Benami Property Transactions Act, 1988 and the new Benami Transactions (Prohibition) Amendment Act, 2016 has already been enacted which provides for rigorous imprisonment of up to seven years, and a fine which may extend to 25 per cent of the fair market value of the benami property.
It also empowers the government to confiscate deposits of people using others accounts to convert unaccounted wealth into white money.
Jain is already under the scanner of the I-T department, which has claimed to have gathered proof against him for his alleged connection with Hawala operators and has also been questioned three times for alleged violation of income tax laws. 
The tax department has already claimed that companies controlled by Jain have received Rs 16.39 crore from 56 shell companies of three hawala operators – Jivendra Mishra, Abhishek Chokhani and Rajendra Bansal. 
The Aam Aadmi Party leader has, however, rejected the allegations, saying he has nothing to do with the Hawala operators. A close confidante of Delhi Chief Minister Arvind Kejriwal, Jain said he was only summoned for questioning as a witness.
In December, the CBI had conducted raids at Satyendra Jain's OSD (Officer on Special Duty) Nikunj Aggarwal's office at the Delhi Secretariat.
Meanwhile, BJP activists led by Delhi unit chief Manoj Tiwari on Monday protested outside Chief Minister Arvind Kejriwal's house in Delhi, demanding Jain's dismissal for his alleged involvement in the Hawala case. 
Tiwari said Arvind Kejriwal, who came to power claiming to be an anti-corruption crusader, was not acting against his minister who was allegedly involved in Hawala transfers.